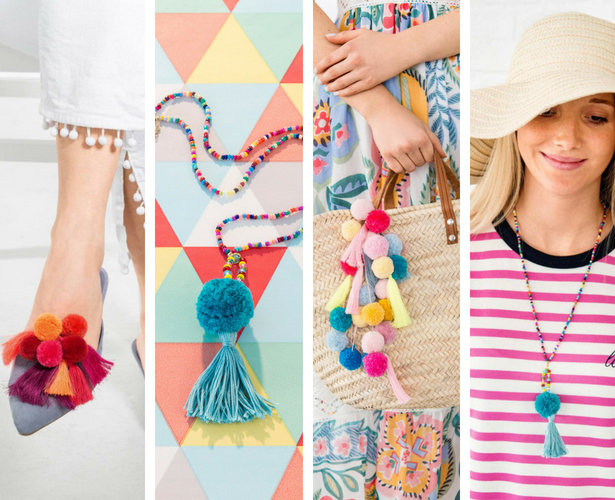 ShareThis
Pom poms and tassels are so easy to make and can make any outfit and accessory vibrant and fun! Read on to see how you can whip up these fun DIYs to elevate you look – everything from shoe clips to necklaces, pom poms and tassels truly are the trend of summer.
First things first, you need to know the basics. You may have a pom pom or tassel making tool, and if so follow their instructions on how to make – but for those who don't, all you need are some scissors and cardboard to recreate these yourself. Click the texts below to see the tutorials:

You do not have to decide between fashion and comfort! With these shoe clips you can take your flats to the next level!
Here is our quick-to-follow tutorial:
Step 1: Cut 2 circles with a diameter of 5 cm out of felt.
Step 2: Sew on 5 tassels first on each felt circle.
Step 3: Close or stick the pompons over it.
Step 4: Attach the clips to the bottom of the felt circles so you can attach the pieces to the shoes .



A colorful pendant for every handbag!
Here is our quick guide:
Step 1: Make about 6 cm long tassels. Use a 50 cm long embroidery thread for binding and thread the ends into the needle.
Step 2: Thread a pearl, a small pom pom and 3 different pearls over each tassel.
Step 3: Knot the 3 strands above the beads together. Thread the big pompom and knot the threads again above the pompon.
Step 4: In the remaining 2 threads you can thread 12 beads again. Put the threaded beads into a loop and tie the thread end in front of the first bead.
Step 5: Pull the end of the thread into the pom pom.
Step 6: Attach the pendant to a pocket handle with a snap hook



Just look how easy this refreshing garland is made:
Step 1: Make a bunch of tassels and pom pom in all sorts of fun colors!
Step 2: Thread string or cord into the darning needle.
Step 3: Thread pompoms and tassels alternately.



Make your necklace an eye-catcher with tassels and pom poms!
Step 1: Cut a piece of string about 70 cm long. Thread the beads on with the help of a needle covering about 60 cm of the string. Attach the squeeze cups and the jewelry clasp to the ends of the string.
Step 2: Attach the tassels to the pom poms by passing the ends of the tying thread through the pom pom with the darning needle. Thread beads into a thread to make a loop about 6 cm long. Put the threaded beads into the loop and tie the ends in front of the first bead. Drag the ends of the thread into the pom pom.
Step 3: Thread longer beaded necklace through the loop.


Which pom pom accessory is your favorite?