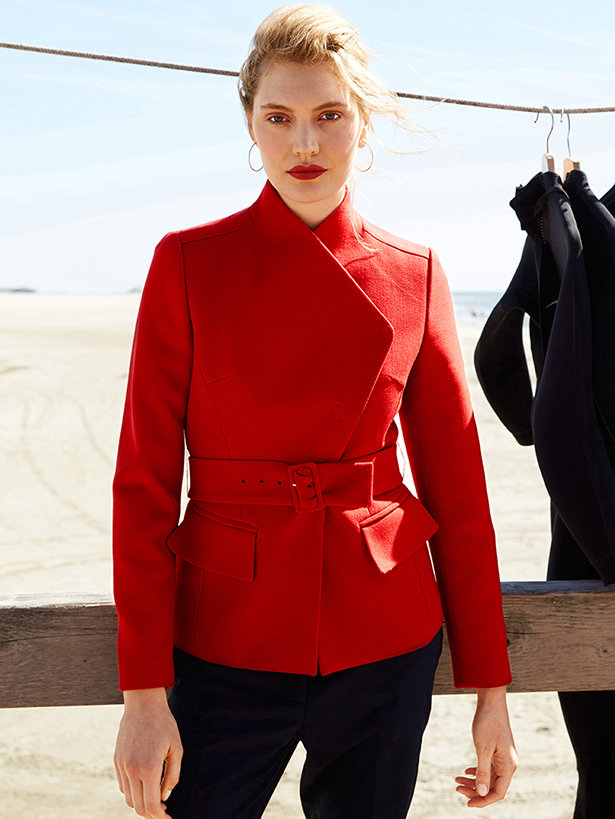 ShareThis
No belt buckle matching your fabric? We'll show you how to make buckles made out of fabric to perfectly go with your fabric belt and garment. It's as easy as 1, 2, 3… and some scrap fabric.
Pattern: Red Short Jacket

Step 1: Place two pieces of fabric, one interfaced, right sides together. Then mark the outlines of the clasp with a chalk pen. Stitch the inner marking square with a short stitching length and then trim the allowance to 0.5 cm width, and clip into the corners at an angle. Cut only one layer of fabric on the narrow side edges close to the stitching line.



Step 2: Flip to the right side and place the clasp between the pieces of fabric with the seam lies on the inner edge of the clasp. Cut back the fabric layer previously cut to the stitching line and glue it with textile glue or sew it with whip-stitches as pictured. Note: the stitches must not be visible on the right side of the fabric. Now cut the other piece of fabric at the corners and trim, then put this piece of fabric around the closing edge, fold it in, and sew it to the inner seam with small stitches. Again, the stitches on the right side of the closing side must not be visible.



Step 3: If the belt buckle has a "thorn", cut or punch a small hole about 3 cm from the end of the belt. Close this hole with buttonhole stitches – so it doesn't fray.



Step 4: Slide the thorn through the hole. Place the end of the belt around the bridge and sew it to the back of the belt with whip-stitches.



Other Option: Alternatively zigzag the belt end with zigzag stitches and stitch it down by machine. Unlike the previous step, you can see the stitches on the right side.


Diagram images: © Efer Hebenstreit / Agentazur.com