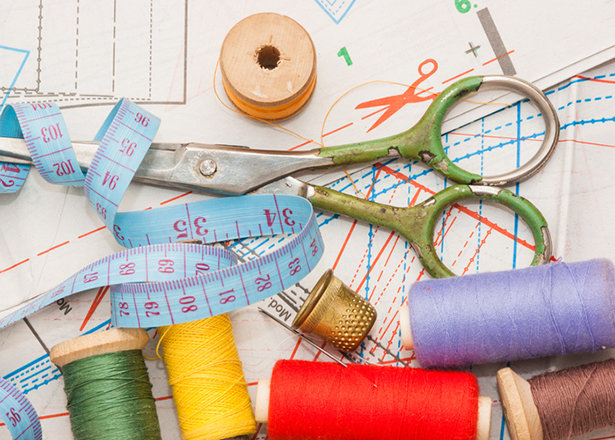 ShareThis
It's easy with our multi-size patterns! Even though we offer several sizes for each of our patterns, it is still possible that your favorite pattern is only available on the pattern sheet in one size too large or one size too small. But you don't have to do without your favorite! Here we show you how to change the size of a pat­tern…
On our multi­sized patterns, the lines for the different sizes are shown next to one another. The distances be­tween the lines correspond to the differences in width or length between the various sizes. To draw a pattern one size larger or one size smaller, just add a new size line to all pattern pieces, spaced the same distance apart as for the given sizes. Do not just "eyeball" this line! A ruler, or preferably a drafting triangle, is more exact.
To measure the distances, first draw several auxiliary lines, exactly at right angles to the given size lines. In addition, connect the corners of the given size lines – for example at the corner formed by neck edge and shoulder seam or by armhole edge and shoul­der seam. These connecting lines must run exactly through the corner points of the new size lines (see below).
Seam marks, such as the shoulder mark on the sleeve cap, which do not lie exactly one above the other or next to the other on the different size lines, must al­so be connected by an aux­iliary line. At the point where this auxiliary line crosses your new size line, you can then mark seam mark for your new size (see below).
Please note: According to the size chart, the increments between widths given for sizes 36 and 46 measure 4 cm (1 5/8") while those be­tween widths given for sizes 46 to 52 measure 6 cm (23/8"). If you want to add a smaller size (42) to a pattern which is given for sizes 44 bis 52, you should therefore draw the size lines for size 42 and the auxiliary lines at the corners based only on the size lines or the differences between the lines for sizes 44 and 46.
You should not change the size of a pattern by more than two sizes. With larger size changes, a good fit can no longer be guaranteed.