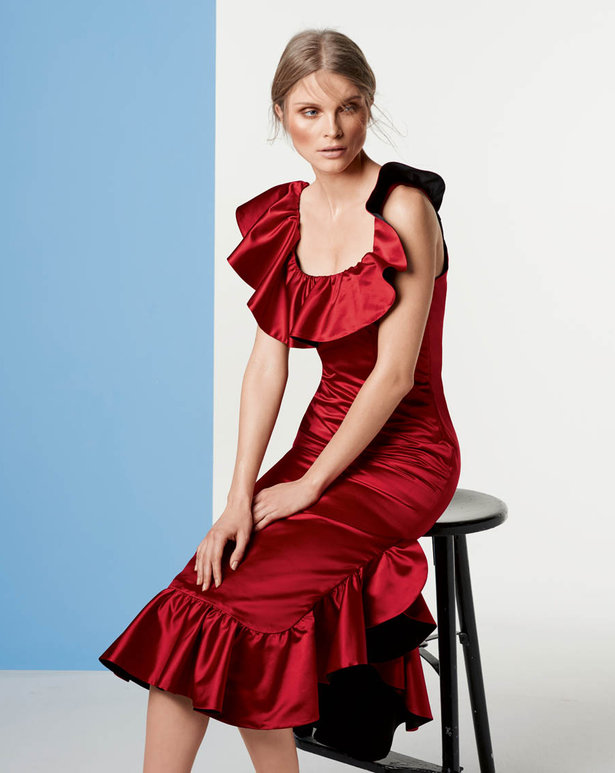 ShareThis
Flounces are decorative elements that can be found on numerous garments like skirts and blouses, but also on jackets and dresses! They give the garment a playful and romantic look and they are easy to sew. Here we show how flounces are sewn for BurdaStyle patterns and how they can be incorporated into your clothes.

Step 1: Flounces in BurdaStyle patterns are often draft it yourself pieces, and you are given the radius dimensions to save you paper so you can draft directly on your fabric. This type and look of flounce can also be a circle skirt! The inner edge of the circle is the seam/attachment edge or the waistline in a circle skirt's case. Note: The smaller the inner circle is, the more glorious and voluminous the flounce will fall!
So if you have a digital BurdaStyle pattern that has a flounce like piece and it doesn't print with the other pattern pieces, you will have to draft it yourself and the measurements will be in the Cutting Out section of the instructions.



Step 2: If the flounce is to be narrowed at one end, the inner circle is cut into a spiral shape. Important: The edge of the flounce should only be trimmed with a 1 cm seam allowance. With a wider close-up, the flounce can no longer be folded without "wrinkles".



Step 3: If a flounce has to be composed of several circles, the individual circles are cut and then sectioned together with straight seams. This is more in the case of a flounce that needs to be gathered in for the inner circle to create more volume.



Step 4: A roll seam is sewn on the outer edge of the flounce. Depending on preference, this can be done with the sewing machine or by hand. Click here to see how to sew a rolled hem by hand!



Step 5: If the flounce is at the lower edge of skirt or sleeve (like this blouse pattern pictured above), it is stitched right sides together with the garment's edge and the inner circle of the flounce. Hem the flounce before you attach!



Step 6: If the flounces are overlapping, the edge of the flounce is first hemmed. The flounces are stitched on top of the garment and not into a seam and then pressed downwards. This technique is great for applying flounces to already sewn garments that you made of even bought!



Step 7: Finished! Flounces on dresses are eye-catching and can be used on several parts of a garment. They can also be used to finish necklines and hemlines like on this dress pattern style.



Here is a skirt pattern with a cascading flounce that hems and decorates the skirt beautifully.



Add a flounce to your next project!