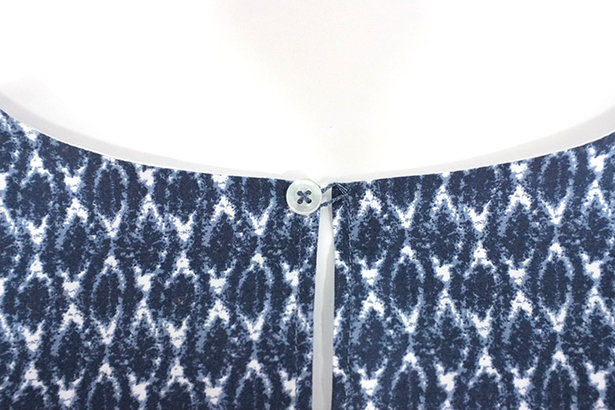 ShareThis
Thread chain loops are great for securing buttons, belt loops, and for tacking linings. It is a hand sewing must-know for any sewist, so grab your hand sewing needle to get started and read on to watch how it's done…
My personal favorite use for a thread chain loop is bringing together the top of a slit in combination with a button. Sometimes I use elastic, but a thread chain loop in matching thread is always a better and more aesthetic choice.
I used the following technique to complete the back of my 60s Shift Dress pictured below. Since it was a loose shift dress silhouette it didn't need a zipper, but to get my head in and out of the neckline it needed a slit, and a thread chain loop was the perfect finish to close the top of it!

Get this shift pattern here to make yourself! It is a great beginner dress project.



There are a couple of different ways to sew a thread chain loop. You can either establish the loop first and knot around it (pictured below), or knot the thread first and sew the loop down (in the video below). For my dress project I followed the instructions for the video, but instead of sewing the other part of the chain away from the start I put them in the same spot.



Watch the video below to see the process of knotting the thread to make a belt loop. To make a button loop, knot the thread according to the size of the button, the larger the button the larger the loop.