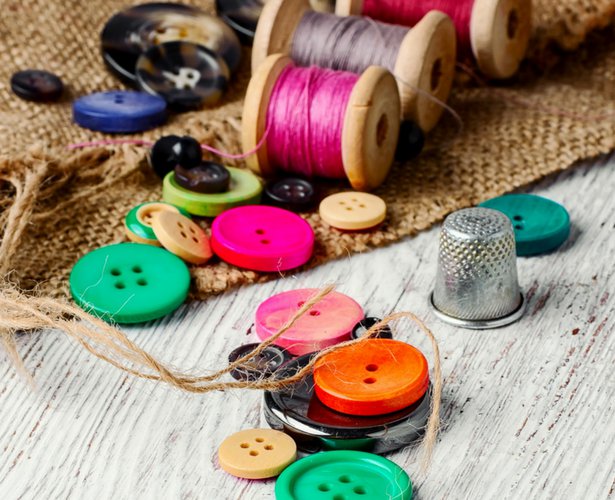 ShareThis
Button and buttonholes are one of the most common closures in garments. Modern sewing machines the ability to sew buttonholes quickly and efficiently with the help of a special foot, but sometimes it is nice to give garments (especially ones sewn in delicate fabrics) a couture finish and sew things like button holes by hand. Read on to see the tutorial on sewing buttonholes by hand.
Buttonholes are made in double fabric, which is reinforced with interfacing commonly. The buttonhole length is marked on the right side of the fabric. It is sewn with normal sewing thread or with fine fabrics with slightly thinner machine embroidery and stuffing yarn. This is how they are sewn by hand:

In order to obtain a uniformly wide stitch sequence and to avoid tearing the buttonhole, stagger the buttonhole mark narrowly. Cut the buttonhole in the middle, but do not cut the stitches at the buttonhole ends.



Secure the cutting edges with over casting stitches to prevent fraying.



Then embroider the buttonhole with buttonhole stitching. Proximity from left to right, that goes best. Insert the needle from the back into the edge.



Thread through a small loop. Pass the needle through the loop from behind.



Tighten the thread. The knot must lie exactly at the edge of the needle insertion. After you have embroidered the first side of the buttonhole, a button is sewn at the end of the buttonhole. To do this, thread the thread several times over the full buttonhole width…



… and tightly wrap this thread, while always covering some fabric. Then embroider the second half of the buttonhole and sew back a button at the end of the buttonhole. Sew the end of the thread on the back.



An eye buttonhole is sewn for horizontal buttonholes, for example on blouses.
How to sew an eye buttonhole?
It differs from the first buttonhole only in that rounding is sewn at the front end of the buttonhole. For this purpose, the front end of the button is pierced, so that a rounding forms. The nodules are pulled slightly upwards. At the other end of the buttonhole a stitch is sewn.
Did you know?
In the case of women's clothing, the buttonholes are inserted into the right front side or the left back side, in the case of men's clothing on the left front side or the right back side. In the case of side closures, the buttonholes are always in the front part.