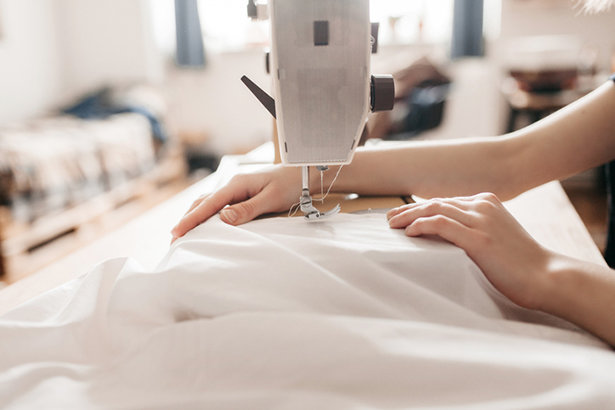 ShareThis
On skirts, dresses, blouses, and more, gathering adds swing to any outfit. Read on to see how to gather fabric perfectly even…

Cut out the needed fabric pieces. Here the blue fabric piece is to be gathered to match the length of the pink fabric piece.
In order to have even gathers, first stitch two parallel lines, approx. 0.7 cm (1/4") (presser foot width) and approx. 1.5 cm (5/8") from the fabric edge. Set your machine for the longest stitch length and loosen the tension of the upper thread slightly. Do not backstitch at ends of stitching and leave long ends hanging when you cut the threads.



At one end of the stitching, knot the thread ends together. When gathering very long pieces or heavy fabric, you can slide the fabric from both sides or work in several sections.
Hold the bobbin threads taut and slide the fabric along these threads, to gather the fabric to the desired length. When the desired length has been reached, also knot these thread ends together.



Distribute the gathering evenly along the entire length. There should be no "large" tucks or areas which remain smooth.
Now lay the two fabric pieces together, right sides facing, and pin them together.



Tighten the tension of the upper thread again slightly and stitch the fabric pieces together. Stitch exactly between the two gathering threads. Make sure that the gathers are not pushed ahead of the presser foot.
Remove any visible gathering threads. Finish the edges of the seam allowances and carefully press the allowances toward the smooth fabric piece.
Now try gathering on these patterns below:



left: Ruffled Collar Dress; right: Gathered Pencil Skirt.
Happy Gathering!