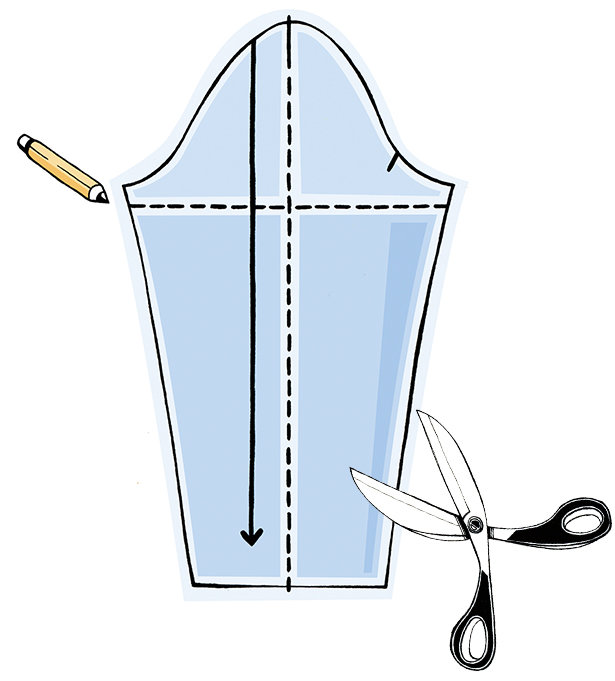 ShareThis
Is your sleeve a little tight? Simply add a little fullness to the upper area – we will show you how and exactly where! Read on to see…

V-Neck Plus Size Dress #118B 02/2017

We all hate when it is uncomfortable to move around your arm in sleeves that are too tight. Luckily we as sewers and can custom the clothes that we make. So grab your tight sleeve pattern, a pair of scissors, some tape, and paper to get started!



Draw a vertical line from the seam mark on the sleeve cap to the hem edge, parallel to the straight grain, and a horizontal line approx. 1 1/4" (3 cm) below the underarm edge.



Cut along these lines, ending shortly before the sleeve cap and the side seam edges. Pull the upper pieces apart to add the needed fullness. The original straight grain line no longer applies.



2-SEAM SLEEVE: On a 2-seam sleeve – as found on many jackets and coats – add fullness in the same manner, but only to the upper sleeve piece. The under sleeve remains unchanged!



To make sure that fullness is really added to the sleeve only in the area of the upper arm, glue the pattern halves together again at the hem edge. This makes the edges of the horizontal cut automatically overlap – make sure that this happens evenly. The new straight grain line runs from the cut at the sleeve cap to the hem edge. Even out the hem edge, to remove the "bend".