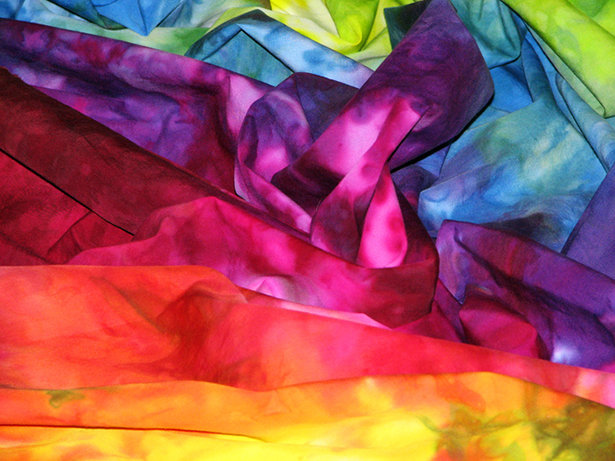 ShareThis
Can't find the particular color of fabric you want? Or perhaps you want to make your handmade garment extra special and personalized by hand dyeing your fabric to make it truly unique. Read on to see the various stages and steps of dyeing your own fabric.

First, tie off your garment or your home textiles in the style you want. Use, for example, cable ties, a fixed cord, clothes pegs or screw clamps. At the bound edges, the fabric does not accept the color or only slightly. This creates bright patterns on the darker colored fabric.



The less fabric that is between the tying, and the tighter the fabric is wrapped or folded, the smaller the pattern becomes. (top image)
The more regular you bind your fabric, for example, choosing distances, the more regular the result will be. (lower image)



It's best to first gather your supplies like paint, bowls, and spoons. Also cover the floor and throw yourself in work clothes and rubber gloves.



Now put on the dye bath. Dyed at 60 °. Add 4 L of boiling and 2 L of cold water to a bowl or bucket. Then unfasten the textile dye to the desired color depth.



Now place the set textile in the dye bath and stain it with regular stirring / agitation for one hour.



Then rinse the still set textile under running water until the water remains clear.



So that your new single piece does not fade on later washes, you can fix the color. Pour 1 bottle of fixicolor for simplicol textile dye into 8-10 L of cold water. Place the set textile in the fixer for 15 min. Now you can remove the bindings and rinse your textile again clearly. Finished!