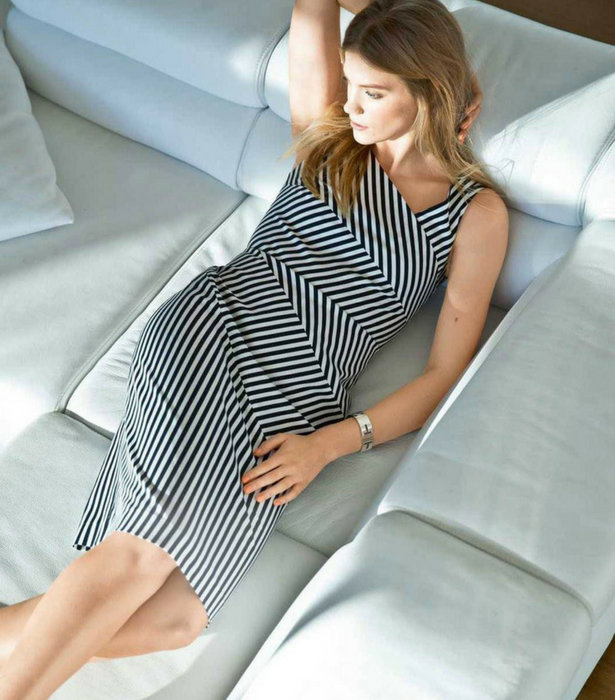 ShareThis
You love stripes? So do we – so here are some tricks on how to cut and sew so that everything goes perfectly and your stripes are beautifully matched!
Dress pattern: Asymmetric Sheath Dress 04/2016 #119B

So that the strips of the desired pattern later intersect correctly once sewn, you first draw lines on all the pieces as pictured above. To do this, place the pieces as they go when sewing together all at the same level. For top/dress patterns the underarm point is a great place to mark this line. Another helpful hint is to trace out the pattern pieces in tracing paper so you can see through.



Now fold the fabric halfway so that the stripes are exactly on top of each other.



Then pin the fabric layers together. Use a pin to see if the stripes are exactly on top of each other.



Now the pattern is placed on the fabric. The drawn lines must all have exactly the same stripe position.



If you are working with striped fabrics for the first time, you should first place all the pattern pieces on the fabric and then check once again if everything is lining up before cutting out.



So that nothing slips, place all stripes along the edges exactly on each other before sewing. Be sure to insert the pins across so that you can sew over them.
Try one of the below striped patterns!



top left: Sheath Dress; top right: Girl's Striped Dress; bottom left: Plus Size Striped Top; bottom right: Striped T-Shirt

Do you sew with stripes? If so, do you plan out your stripe matching?
Happy Sewing!