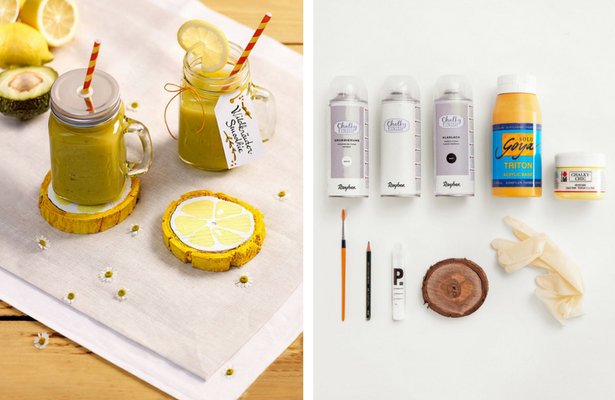 ShareThis
Lemon freshness – Ice-cold drinks often leave edges on tables or water stains on tablecloths. Now that it gets warmer again, we like to drink ice-cold smoothies or juices. These great beverage coasters made of wood create a quick and stylish remedy. The coasters can be painted arbitrarily – we find the lemon look particularly refreshing.
Tip: Between the steps the paint layers have to dry well. The specified time below are to be seen as pure working time.

+ Primer
+ White paint
+ Clearcoat
+ Acrylic color yellow
+ Chalky chic color
+ Brush
+ Pencil
+ Pair gloves
+ Wooden discs
+ Pearl pen



Step 1: First apply primer to wooden disc, then spray with white. Then draw the lemon motif in pencil.
Step 2: Color in the lemon motif in yellow Chalky color. The outer edges are provided with acrylic paint. Let it dry well.



Step 3: Spray coasters with clear lacquer and allow to dry. Paint individual lemon kernels with the pearl pen.
FINISHED! These make the perfect decoration to your first party of the Springtime, and while you are busy making decorations you must sew up a matching party dress to wear:



Our color blocked Mini Dress in yellow, pink, and green is the perfect casual and quick-sew dress! Then for something more boho, try sewing up our Ruffle Maxi Dress in a nice yellow. Prints are always fun and you can find some fabulous citrus prints, but we also love this Sixties Shift Dress.