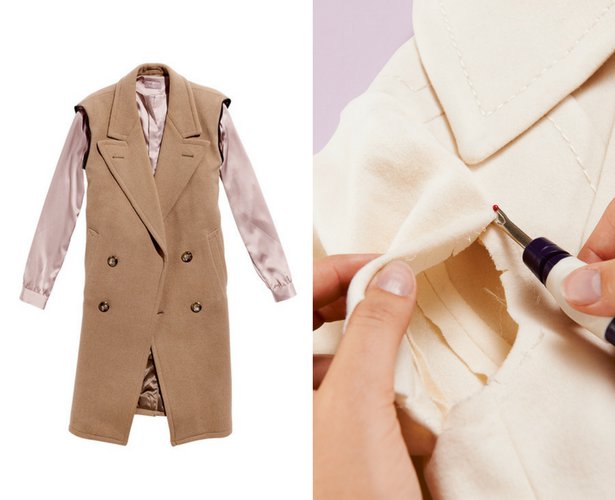 ShareThis
Old coats, jackets and blazers fashionably upgraded to a vest! Thrifted an old blazer? Perhaps you found an outdated one in your closet with big shoulder pads? What better to do than rip off the sleeves and transform your garment into a vest that is perfectly on trend and elevates any outfit. Grab your seam ripper and read on to get started…

+ Coat
+ Seam ripper
+ Sewing thread
+ Pins
+ Sewing needle



Carefully detach the outer fabric and lining sleeves from the jacket with the seam ripper.



Separate the lining side seam on one side to form a slit of approx. 15 cm.



As a result, pull the armhole of the outer fabric and lining, and sew the edges right side to the right side.



After turning, armhole to armhole from the lining side, iron. Close slit in lining with hand stitches.



Just want the look? Sew up either one of these cool vests including the left plus size Long Waistcoat or the regular sized one with Wide Lapel.