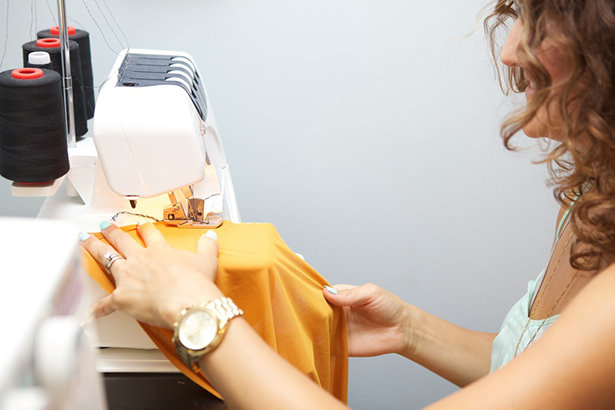 ShareThis
Comfortable is possible! Wonderfully soft and stretchy: The current jerseys with elastane look better than ever – and with our professional tips you get these stretchy fabrics under control. Read on to see the guide…
With elastane, every jersey fabric whether cotton, viscose or synthetic, is bi-elastic. That is, it expands in all directions, gently clings to the body and hardly wrinkles. Therefore, a long day passes without a trace of a crease and even a stay of several hours in a suitcase doesn't phase jersey. If you like something glamorous, choose jersey with shine – metallic threads or synthetic fibers that make it possible.
Cut:
Please note: BurdaStyle patterns are adapted to the stretchability of the jersey, so only use elastic stitches! When cutting, pay attention to the cutting layout (the thread line drawn in the cut parts corresponds to the cutting layout and must run parallel to the longitudinal selvedge edges of the fabric). Place the cut pieces on the fabric as close as possible so that the lower edges of all cut pieces point in the same direction. Even with fine mesh, there are top and bottom, so that depending on the light incidence small color differences can occur if the parts were not cut in the same direction – this is also known as nap.
Transfer Seam Lines:
Copy paper and tracing wheel can work, just make sure to test first on a scraps. Just copy on the wrong side of the fabric and use a smooth toothless wheel. This results in a solid line that is better visible than the dotted line of the conventional tracing wheel.
Iron:
Please do not iron across, but always in the direction of the stitch (longitudinal direction – parallel to selvedge). The temperature depends on the material – for fiber blends, set for the most sensitive fiber (example – polyester). Test on scraps before on a cut pieces and garment.
Interfacing:
Vlieseline G 785, the delicate, slightly bi-elastic interfacing is ideal and it is ironed on dry with no steam. Edges that do not not want strech and need to be stabilized (necklines and armholes in some cases) can get the necessary hold with Vlieseline Formband. Iron the fuse tape so that the incorporated warp stitch hits the marked seam line. Download our interfacing guide here!
Sew:
To maintain elasticity, sew the seams with a narrow zigzag stitch (stitch length approx. 2.5 mm, stitch width 0.5 to 1 mm). For seams that are not ironed out, set an overlock stitch on your sewing machine (see sewing machine instruction booklet). Or sew these seams with the twin needle. Even seams remain so stretchy. A coverlock machine is ideal for sewing jersey: sew seams with 3- or 4-ply overlock stitching and at the same time sew on them, or sew the seams first with the warp stitch, then finish with 2- or 3-ply overlock stitch. Sew seams and cut edges with the elastic cover stitch.
Laundry:
Wash by hand or by gentle cycle. Let large parts such as pants or clothes dry flat. Do not hang up – they can stretch out due to the wet weight.
Extra Tip:
Hemlines can sometimes "wave" and ripple when stitched in place, and if you fix the edge with Soluweb (Freudenberg) that can be eliminated. Iron the seam allowance, put a strip of Soluweb between the hem allowance and the garment, iron again. Sew the hem, then put the whole thing in water. Soluweb dissolves completely.
Patterns:
Only opt for sewing patterns that indicate a stretch/jersey fabric under Recommended Fabrics. You can shop our knit category here! And see below some of our current favorite knit patterns:

top left: Pleated Wrap Dress; top right Twisted Jersey Top; bottom left T-Shirt Dress; bottom right Cutout Back Shirt.
Want to learn more about sewing with jersey? Check out our Sewing Knits Without a Serger online course.