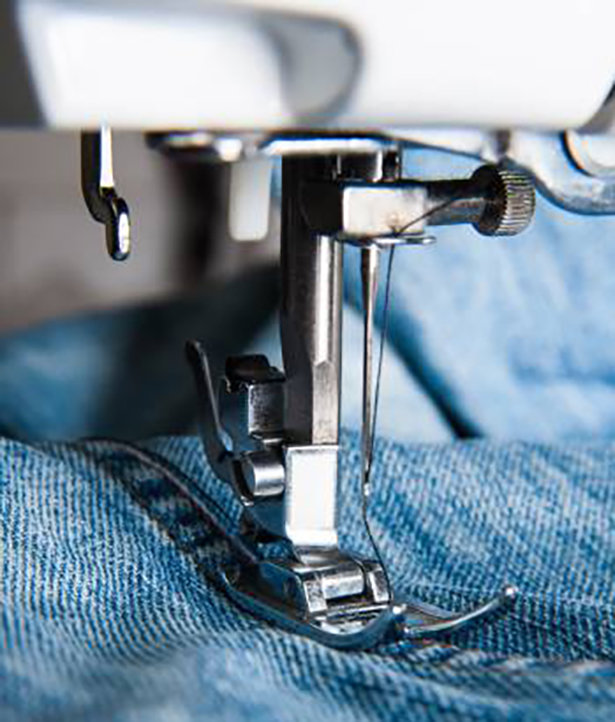 ShareThis
The blue wonder: In the course of denim's world career, it has risen to a superstar and has survived every trend: denim, truly the material for all fashion cases! Read on to see how to best to deal with this multipurpose fabric…
Genuine denim is made from 100% extremely dense cotton. A part of bright, natural threads is interwoven with blue threads so that a diagonal, finely striped fabric structure is formed (twill weave). On the top, the right side appears predominantly blue, on the underside rather light. In the meantime, in addition to the rustic original, there are also light, fine variants: Here, for example, viscose or polyester are mixed with cotton. The denim qualities with elastane content are also indispensable. This makes the denim super comfortable and ensures the best fit.
Crop:
Wash jeans before cutting, because like all cotton fabrics they run depending on the equipment (refinement) more or less strong. And: Dark denim fabrics can bleed heavily during the first wash, so always wash separately! So that the fabric edges do not fray when washing, before serging. We also recommend folding the fabric in half (right side inside) and sewing the edges together with large stitches.
Transfer seam lines:
Jeans fabrics are very clear with tracing paper and wheels. But please always transfer only on the wrong side of the fabric!
Iron:
Press cotton jeans with iron settings at 2 to 3 points, preferably with steam. Beware of elastic jeans fabrics. They tolerate only a lower ironing temperature (maximum 2 points). Before on a fabric remainder test.
Interfacing:
For denim fabrics that you want to wash at 60 degrees or more, Vlieseline F 220 is ideal. For all other denim fabrics Vlieseline G 785 or H 180 is recommended. Only if you want to be particularly stiff, for example shirt collars, you should use Vlieseline G 700 or H 200. Download our interfacing guide here!
Sew:
For thick denim, there are special denim needles with extremely stable, but also slender tip in thickness (size 90 &100). These needles pierce even several layers of fabric easily (help an older machine by turning the handwheel). For thinner, lighter denim qualities 70's or 80's universal needles suffice. The stitch length depends on the fabric quality. As a rule of thumb, for fine denim fabrics, sew a small stitch length (about 2 mm stitch length), coarse, firm fabrics with a stitch length of about 2.5 to 3 mm. Important: For seams use polyester universal yarn. The typical jeans quilting succeed optimally with the slightly thicker quilting or repair yarn.
Maintenance:
Jeans made of pure cotton can withstand washing temperatures up to 90 degrees and can be put in the dryer – be careful, risk of shrinkage! It is best to wash dark jeans separately, they can dye. Iron jeans with iron adjustment wool / cotton with steam. Wash jeans with spandex at 40 degrees, iron with moderate temperature (silk / wool adjustment).
Extra tip:
You want to give your self-stitched jeans the casual used-look? Just wash the good piece several times with heavy duty detergent in higher dosage. If necessary, additionally work on edges and seams, on knees and elbows with pumice stone, a hard brush or fine sandpaper.
Patterns: For flowy garments and denim blouses, use a lighter weight denim. For jeans and jackets use a heavier weight denim.

top left: Tiered Denim Maxi Skirt; top right: Sleeveless Button Up; bottom left: Flared Trousers; bottom right: Kid's Skinny Jeans
Want to learn more about sewing with denim? Check out our Jeans Demystified: Pant Fitting and Construction the Easy Way Course!