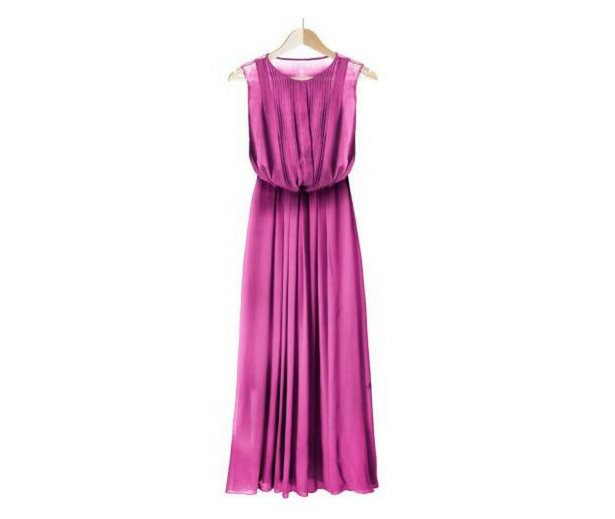 ShareThis
Chiffon – The fabric for summer dreams. As light as a feather and always a bit romantic, chiffon is the perfect fit for feminine favorites. Here we explain how to treat this fine fabric properly…
The finest of all fabrics is always surrounded by a touch of luxury, especially if it is made of silk. This variant, often lushly embroidered with beads and sequins, is especially recommended for large evening gowns. Chiffon is made of man-made fibers and is a bit cheaper and more durable although, has the typical slightly grainy surface of silk chiffon but are more or less transparent depending on color and pattern.
Cut:
It is ideal to use rotary cutters with a cutting mat. If you usually cut with scissors, use a non-slip pad, such as a sheet underneath the fabric. To pin pattern pieces to chiffon, only use thin pins with a perfectly pointed tip or simply tape or glue the pattern pieces – either with narrow strips of tape or spray adhesive.
Transfer seam lines:
Markings are difficult to do with chiffon fabrics since they are sheer, the markings would shine through and show on the right side of the fabric. It is best to always test your marking method on a scrap piece of your fabric, as disappearing fabric frixon pens (like these) may work! Really the best method to mark lines and dart legs on chiffon fabrics is to use a hand sewing (make sure it is sharp) and contrasting thread doing large stitches.
Iron:
Chiffon curls when it comes into contact with water (use steam irons only with empty tank!). Make sure that the soleplate has no scratches – as they could transfer to the fabric. You can put tissue paper between fabric and iron at one of the two lowest settings.
Interfacing:
Semi-transparent interfacing Vlieseline G 785 is best for chiffon and make sure it is fused using a dry iron with no steam! See our interfacing guide here.
Sew:
Use a fine needle (Microtex needle), needle size 60 or 70, with fine sewing thread (machine embroidery thread). Sew with small stitches (stitch length 1.5 to 2 mm). While sewing, place tissue paper under the fabric so that the feed dog doesn't pull the chiffon's fibers. In order to maintain a "clean interior", the seams must be carefully serged, the fastest way is to use an overlock machine. Or sew about 5 mm next to the seam allowance edge with zigzag stitch, cut off the addition along the stitches. But really the best way, especially if you are using nice chiffon is to sew French seams.


Laundry:
Pure silk chiffon must be washed by hand, more synthetically – with mild detergent by hand or in the gentle cycle of the machine.
Patterns:
When wanting to sew with chiffon, look for patterns with flowy silhouettes that are not that fitted. Blouses and layered dresses are most commonly sewn in chiffon. Check out these ones below:
top left: Green Chiffon Evening Dress; top right: Printed Chiffon Blouse; bottom left: Plus Size Black Chiffon Blouse; bottom right: Ruffled Chiffon Dress