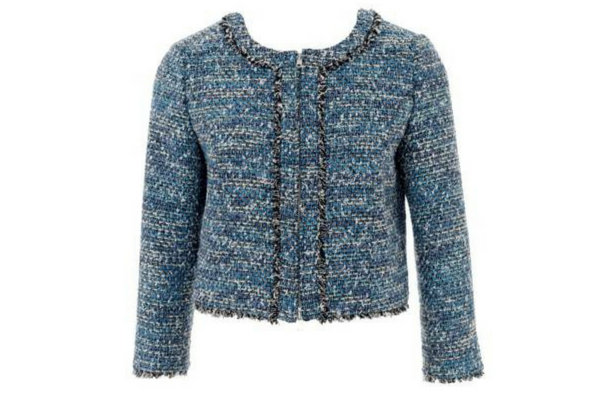 ShareThis
Bouclé – the name is derived from the French word "boucle", which means "loop". It is a textile classic and always turns into wonderful dresses, jackets, and even accessories! Read on to see the best ways to work with this dynamic material…
Above: Boucle Jacket 02/2017
Irregular colorful yarns woven with knot-like techniques. The yarns can be one or more colors, fine or thick – the possibilities are endless and create various weights of bouclé for different end uses. As for the patterns, there are no limits – from tweed optics to houndstooth, there is everything! Plus: thanks to the typical irregular surface, bouclés are easy to use even for beginners as "crooked" seams are practically invisible!
Cut:
Many bouclés have a pattern that often can't be recognized at first glance. Our tip: Always lay the pattern pieces on the fabric so that the lower edges of all pieces point in the same direction (like a napped fabric). For striped or checkered bouclés, the pattern on the longitudinal seams will match each other when you lay pattern pieces on the fabric so that the bottom edges of the pieces that are sewn together later are on the same pattern stripe. Check out our Guide to Cutting Strped Fabrics here!
Transfer Seam Lines:
Test using tracing paper and a tracing wheel first on a piece of scrap fabric. It could be that the copy lines on the colorful, large-woven bouclés are not visible. If this is the case, trace the seam lines with a tailor's chalk or with a needle and contrasting thread.
Ironing:
Test iron on a piece of scrap fabric, depending what fibers are in the bouclé: wool can withstand a lot of heat, while silk, viscose and synthetics prefer lower temperatures. For mixed fabrics, the temperature always depends on the most sensitive fiber. Iron soft, voluminous bouclés with as little pressure as possible – preferably on a soft surface, like on a terrycloth towel. If possible iron only from wrong side of the fabric. If you have to iron from the right side, then always use an ironing/pressing cloth.
Interfacing:
Vlieseline G 785 is ideally suited for light to medium-weight bouclé fabrics. It is ironed on dry without steam and gives the fabric stability without stiffening it. For heavy bouclé fabrics Vlieseline H 410 or Vlieseline G 700 for the fronts and under collar is recommended. Both of those are ironed with steam: H 410 with a damp cloth, with G 700 the steam from the iron suffices. Check out our interfacing guide here.
Sew:
Basic bouclés are sewn with a normal machine needle (universal needle) – we recommend needle size 80, but with very thick bouclés use a needle size 90. The stitch length depends on the thickness of the fabric. Rule of thumb: stitch lighter bouclés fabrics with a stitch length of approx. 2 mm; for thick, voluminous bouclés, the stitches should be slightly longer. Use standard polyester yarn. For decorative or topstitching, the slightly thicker buttonhole thread can be used.
Laundry:
Bouclé is available in a wide range of qualities. Fine wool and high-quality wool blends for bouclés should always be dry cleaned!
Extra Tip:
Cut bias strips from Vlieseline G 785 approx. 2 cm wide and fuse to the wrong side of piece edges to prevent fraying – especially for more open weave bouclés. from the left onto the fabric edges.
Patterns:
Bouclés are best suited for coats and jacket patterns, but lighter-weight bouclés can be perfect for dresses and accessories! Check out these patterns below:

top left: Vintage Bouclé Dress; top right: Bouclé Jacket and Matching Shorts; bottom left: Bouclé Purse; bottom right: Bouclé Shift Dress