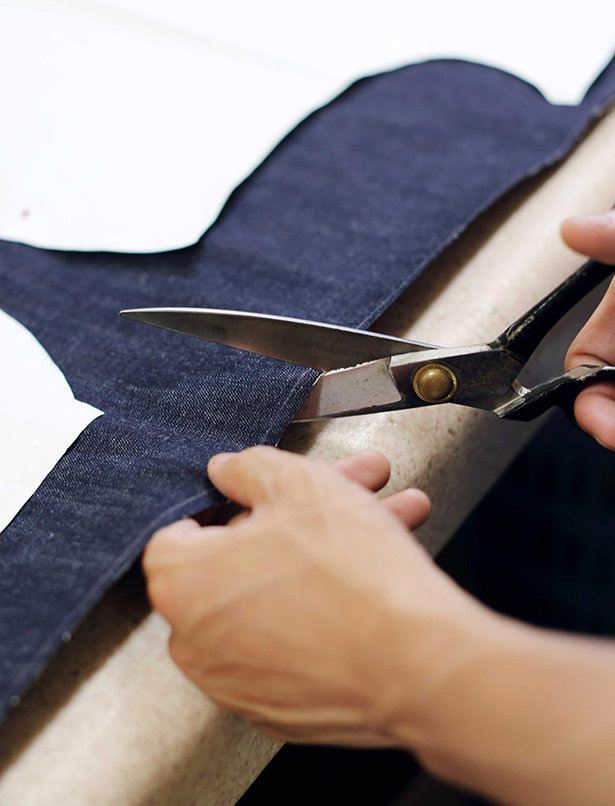 ShareThis
The cutting layout shows the most economical position of the pattern pieces on the fabric to best utilize space with the least amount of waste! For many fabrics, the selvages are more tightly woven than the rest of the fabric, so we do not include the selvedges in the fabric calculation found on the pattern pages. If the fabric is folded, the right side of the fabric lies on the inside. If you need to cut with a simple layer of fabric, our cutting layouts always have the right fabric side facing up. Here we show different cutting layouts and explain what needs to be considered when cutting, so that the pieces can be cut AND sewn as best as possible…

This is the ideal cutting plan. The fabric is folded lengthwise and all the pieces are in one direction. This means that any fabric, whether with or without pattern direction or line direction, can be used.



The hem edges on the pant legs in this cutting plan – not in one direction, be careful. In this case, the fabric must not have a pattern or line direction.



Even if the fabric is folded halfway in width, as shown above, the fabric should not have any pattern or line direction. Important: All cut pieces that are recorded in continuous lines on our cutting layouts will be printed with the label side up, broken line cut pieces will be placed face down on the fabric.



To have the fabric break/fold on both long sides is possible by correct folding of the fabric. It is important that the selvedges are evenly spaced from the edges of the fabric. How much the fabric edges are taken is stated in our cutting layouts.



Pattern pieces that protrude above the fabric fold during the cutting plan are last cut with a single layer of fabric. To do this, place the fabric remainder on the table with the wrong side up.



Place the cut piece on the fabric, draw the seam allowances around the paper pattern and cut piece out.



Place the remaining fabric on the table with the right side up. Put the already cut piece right to right on the fabric and cut the second piece.



Large pieces that are symmetrical and not full paper pattern pieces, but are recorded in the cutting layout with a single layer of fabric are cut in this way: Place the fabric on the table with the left side facing up. Tip: If you also have small cut parts in the cut that need to be cut in the fabric cut, such as the collar parts in this cutting layout, cutting can be made easier by marking the cut pieces a second time and then joining the pieces to each other at the edge marked STAFFBRUCH to be glued.



Put the paper cut part on the fabric. Pay attention to the grainline.



Then fold the fabric by the edge marked on the paper pattern, right side inside, and pin. Draw the seam and hem allowances on the fabric around the cut piece.



With asymmetrical pattern pieces it is important to watch out. Because all asymmetric pieces must be cut in a single fabric layer and on the right side of the fabric. Important: For all BurdaStyle patterns, the labeled side corresponds to the right side of the fabric. That is, cut pieces for asymmetrical models are always put with the label side up on the right side of the fabric.