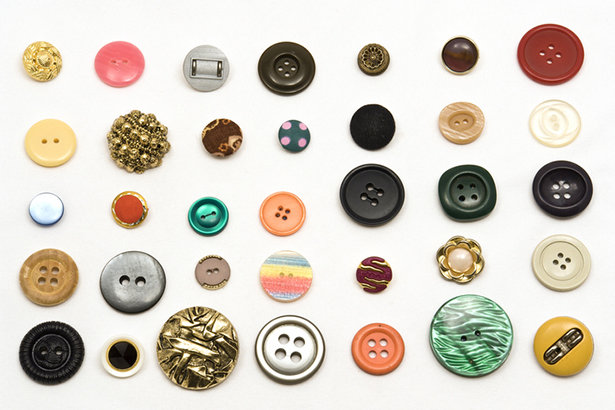 ShareThis
Small, big, round and flat: buttons are available in countless variations. We show here the most important models and materials…

If you want to customize your own buttons to match your garment fabric, then coverable buttons are the first choice! Your fabric is pulled over the basic button made of metal or plastic and closed from behind. Purchase some here.



left: Vintage Cropped Jacket; right: Plus Size Tie Tunic

The most well-known button type consists of a more or less flat disc, in the middle of which either two or four holes are to be sewn. Applications such as fabrics and usages are extremely diverse and these buttons can easily be just decorative!



left: Accent Tucked Blouse; middle: Buttoned Pencil Skirt; right: Buttoned Trousers

This noble button variation is created by wrapping yarn. Here, two parts are made, with a thickening agent at the end of one part and a loop at the end of the other.



Jean buttons are traditionally riveted or screwed into the denim, making them particularly sturdy. They are available in all classic metal colors from copper to silver and can also be referred to as Dungaree buttons. Purchase here.



left: Flounce Jeans; right: Skinny Jeans

Whether coats, jackets or blouses: These dome-like buttons with opening at the bottom are so decorative that they are – depending on size and material – suitable for many garments. They also allow for no visible thread to be seen from the right side!



left: Caban Style Jacket; right: Seventies Style Jacket

As the name implies, these models are mostly made of white and cooked cotton or linen especially on high quality bedding. But they are also often found on traditional blouses.



Toggles are made of wood, horn or plastic and are considered precursors of the button and can be found today mainly on duffle coats or cardigans. Purchase some here!



left: Toggle Cape; right: Plus Size Poncho
Happy Button Sewing!