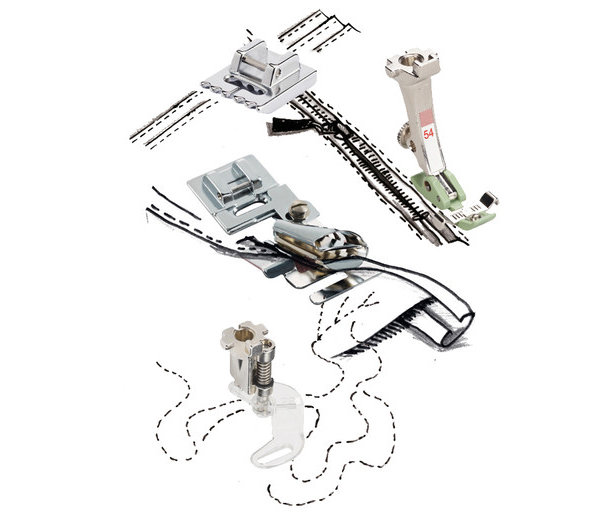 ShareThis
There are so many different sewing machine feet that you can attach to your machine to achieve so many effects. For example, the different feet that are supplied with your machine are often only the basics – there are many more that you can get and here we present several useful feet with which makes sewing even more fun!
Check your sewing machine manufacturer's website for all compatible sewing machine feet
Double Roll Hem Foot: It can fold edges twice (narrow) in one step and sew down with a straight stitch. Great for tight seams on skirts, dresses and blouses in lightweight fabrics.
Blind Stitch Foot: This foot gives a professional hem look. Its red edging runs along the folded edge of the hem while sewing along with the blind stitch for perfect seams. The blind stitch foot is suitable for all materials.
Pincer Foot: It sews tidy, clean and parallel stitches thanks to the grooves. This foot only works in combination with the twin needle where tucks are formed by the two upper stitches stitches being pulled together by the lower thread.
Binding Foot: This foot makes it possible to finish edges with cut bias strips. First pull them into the tunnel and it works with straight or even decorative stitches to sew it into place. The fabric gets sandwiched in between the binding, or you can just feed and sew the bias strips in place to makes straps!
Edge Cutter Foot:This is a great foot for those who do not have an overlock machine, but want to clean up their edges proficiently. An integrated knife cuts the fabric, while an embroidery seam is stitched close to the edge.
Zipper/Piping Foot: This foot allows you to sew close to the teeth of the zipper (or even edges, piping, piping). Set the needle position to the left or right. The special gliding sole is ideally suited for leather and other "sticky" fabrics.
Fringe Foot: The middle metal web of this foot lifts the upper thread when sewing with a zigzag stitch. This results in a looping on the upper side, which creates caterpillar and hem-seam effects. If the upper thread is cut, a fringe optic is obtained.
Quilting Foot: The spring in this foot presses against the fabric layers to keep everything in place. When free and the feed dogs are down, it allows for free hand motion and creation of unique stitch patterns to sew multiple layers together.