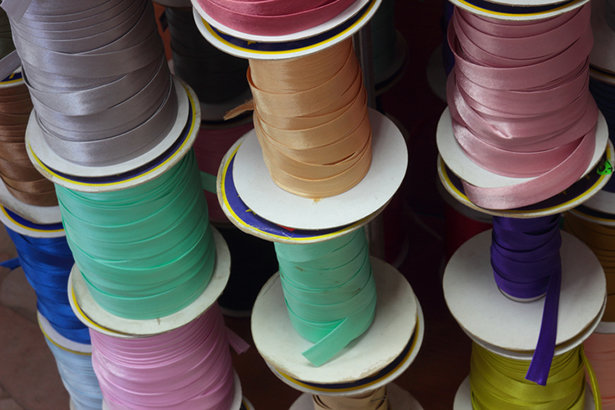 ShareThis
Binding is a proficient and professional way of finishing edges like necklines, armhole, and even hemlines. Cut binding in a contrasting fabric for a pop color and added detail to your garment. Read on to see how to bind various edges of fabric.
You can purchase pre-pressed binding at a fabric store, or you can make your own if you have a fabric that you want your binding in. You will want your binding in long strips so cut your fabric four times your desired finished width (usually 1/4", so cut 1" – 1 1/8" wide) along the bias grainline and sew strips together. Lay the strips right sides together at a right angle, and sew the edges in a straight line.


Press seam allowances open.




You can leave the strip un-pressed before sewing onto the garment…




… Or you can pre-press. First press in half, and then press each top and bottom edge to the middle pressed crease.




Place a strip of binding right sides together with the fabric edge, and sew a seam the width of the binding (1/4 width) away from the edge.




Press allowance towards the binding and wrap other edge around the allowances and hand sew in place.




Or stitch from the right side with a sewing machine straight stitch inside the binding.




Do not stitch up to the corner, but secure the back of the finished binding width with the backstitch.




Stitch the binding from the other side up to the corner and backstitch again.




Flip the binding over the seam (pictured above), and fold along the edge of the fabric. Fold it against the seam, and fold a little pleat/fold right at the corner. Sew by hand or topstitch in place from the right side.




Mark the insertion width along the fabric edge on the wrong side of the fabric. Cut into the corner obliquely up to the marked corner.




Stitch the fabric edge on the right side the width of the binding, then pull the fabric apart at the corner.




Wrap the binding over the seam, creating a small fold right at the corner and pin in place.




Fold the binding along the edge of the fabric and lay a fold on the inner side as well. Sew by hand or topstitch by machine from the right side.




Place fabric edge inside the binding to lay right inside the fold. Hand baste binding edge and slight gather and ease top edge to wrap around the curve. Sew in place by hand or topstitch from right side with machine.



Tank Top 05/2016; Scoop Neck Tank Top 04/2017; Net Top 07/2011; Sequined Tank 12/2012
How do you use binding in your garments? As a decorative detail? To finish edge? Both?
Happy Binding!