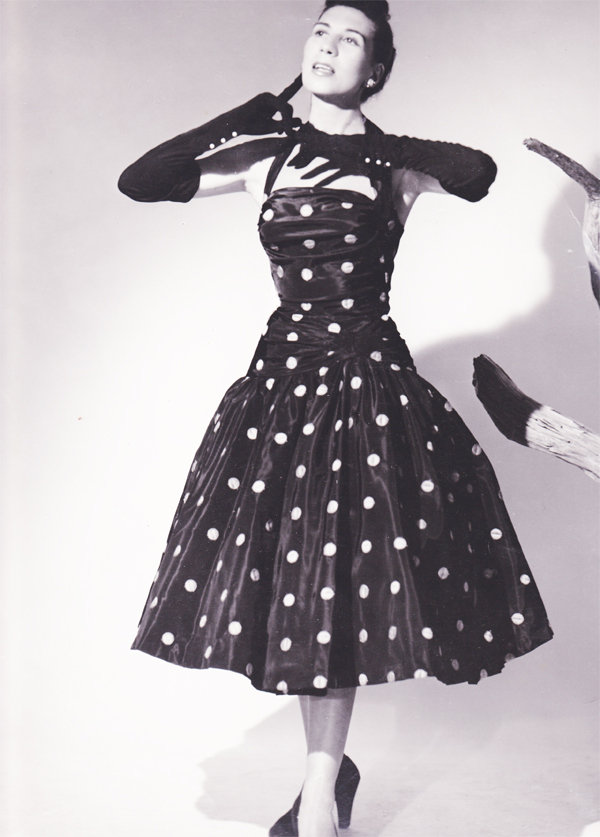 ShareThis
"I'm very unstable", explained Renee Marciel. Machines "make me nervous" and she could hardly sew. Yet, Renee Marciel ended up being an incredibly successful force in fashion and one of the most unconventional designers of the 1950s Miami scene.
Marciel was an eccentric. She sketched most of her designs from her swimming pool (experience derived from sketching out what she wanted her dressmakers to make for herself), she despised pastels (which were so big at the time)- and wouldn't touch them. She ignored trends. She found American fashion (having grown up in France) "skimpy and out of style". She had more nerve than actual talent- but being able to sketch , Marciel created a coveted label completely on her own. She made 6 samples from fabric she purchased for retail value and was scared to death when she got her first order. She couldn't sew! She hired a girl to sew for her and business slowly blossomed from there. Living in Miami, Marciel designed "Resort" collections utilizing a strict color palate of white, naturally and bright shades of orange, gold, blue & green.

So guess what? Marciel's step-daughter found my friend, who owns a boutique, and has shared with her the archives of her step-mother, which consist of sketches, patterns and clothing from Marciel's gorgeous, form-fitting flamboyant label. I shan't give too much away but I will say that I am going to be involved in a Renee rebirth of some sense. My excitement is beyond words and I can't wait to begin!

*Renee Marciel is pictured above in her own black & white polka dot design.