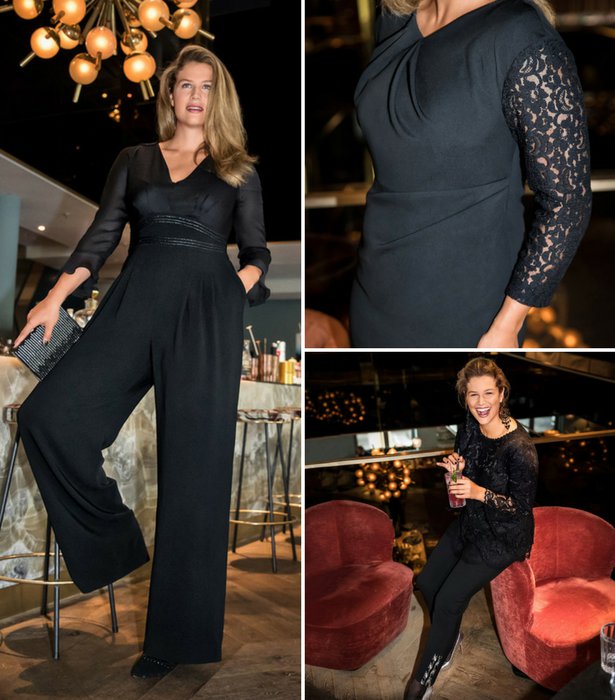 ShareThis
Back to black: These festive fashions from the 12/2017 issue of BurdaStyle magazine have glamorous details and embroidery that maximize black crêpe and chiffon for a sophisticated, sexy and cool style.

The glittering drop of the collar has the look of lapels, though it is a sequin encrusted fabric – with the sequin detail repeated at the sleeve hems of this blouse. Pleats in front and back let the soft shape cascade effortlessly.



Trousers are surely one of the most turned to basics. This narrow fit style gives us even more reason to wear them: Side seam zippers at the lower hem get accented with an embroidered trim to draw attention toward great shoes. To keep the waistline comfortable and in place, it has an elastic casing.



This jumpsuit is absolutely sizzling with its chiffon bodice on top and trousers sewn in a stretch crêpe. Extra glamour at the shoulders comes from the soutache element at the epaulette as well as at the waistline.



Transform every outfit into a highlight with this glamorous lace blouse. Everything is lined except the ruffles. It is definitely a look for many occasions.



The two fabrics lend the look of a shirt and skirt pairing. It is, in fact, an ultra-elegant cocktail dress with curve hugging pleats at the neckline and in the side seam.



Ready for a chance to show your Bond girl curves? This evening dress makes it possible! A fiery cut and inlaid asymmetric pleats that shape and shine in all the right places and unlined lace sleeves are a beautiful touch.



This blouse has a relaxed elegance that shines from the comfortable fit, ruffled trim at the hems and striking crystals along the neckline. The style is one that is easily adapted to be worn with denim and loafers for a look that feels great all day long.


Make all these beautiful pattern styles with the discounted pattern collection bundle here!