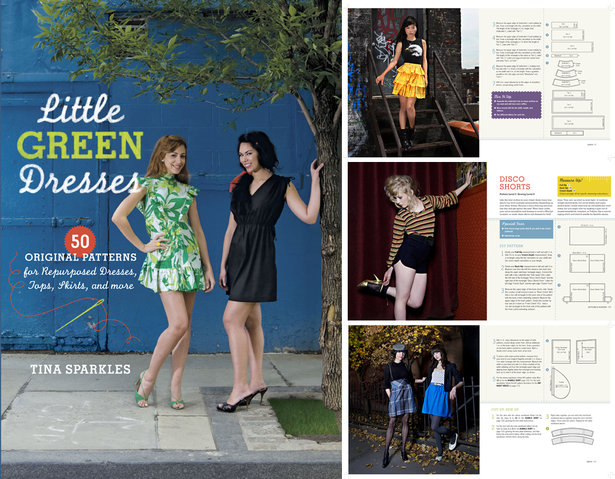 ShareThis
Tina Sparkles, author an exciting, project-filled new book (which features 50 pattern-making projects), Little Green Dresses, was kind enough to not only share her Ultra-Miniskirt pattern tutorial with BurdaStyle, but to also answered a couple of questions about her design sense.
I think Tina's approach is really refreshing. I love her d.i.y. mentality, the "upcycling" ideas and her rock n'roll aesthetic. Many of her designs are for no-fuss girls who like to dress up in personally stylized threads, and beginners needn't be intimidated, her projects are pretty straight forward. The projects in Little Green Dresses are edgy and girly, but versatile enough for many different fashion personalities to follow her lead, while creating her projects in their own style or color palate. I am holding the book in my hands as I type, and I think it's well worth the buy.

How long have you been sewing?

My first memory of sewing was in 6th grade when I started making my own accessories and belts, and that is also when I first started messing around with reconstructing clothes. Since my wardrobe at that time was from Kmart layaway, I jazzed it up with things like tight tube skirts made from t-shirts and big sweaters with the arms cut off. My parents wouldn't let me wear that stuff to school, so I would walk to the bus stop, duck behind a bush and change into my creations! I started really-really getting into sewing when I was in college, so I'd say I've been sewing on the serious side for a little over 10 years now.

Were you formally trained in Fashion Design?

I am mostly a self-taught DIY gal. I have one of those right-left brains that loves math and logic as well as the creative, so I love getting textbooks and figuring things out on my own and experimenting. I also took several extra-curricular textile, garment construction and fashion classes at the University of Texas in Austin, and hooked up with private tutors to learn about draping and whatnot.

Sustainability is important for many young designers in our generation. What steps can we take to have less of an impact on the environment and still make beautiful clothes?

One thing that we can do is to make sure to make quality clothes, both in terms of the construction and in terms of the design…..make amazing stuff that people will want to wear for a loooong time (and perhaps even pass down to the next generation!!?!!). Part of the problem is that people end up wearing something for one season and then they get rid of it to buy something new and exciting.
As designers, we can play a part in adjusting this cycle of [dis]satisfaction. Of course, another big thing is that we should consider our source materials. Polyester and conventional cotton make up a majority of fiber production these days (@80%) and both fibers are extremely hard on the environment. Experiment with using alternative fibers in your designs to bring about more balance and diversity. I know this is a hard one especially since alternative fibers can be expensive and limited (and alternative fibers also have impacts on the environment), but it is all about making progress. In addition to making quality clothes with alternative fibers, we can also make a positive impact by thinking local. Try to source your materials from local manufacturers/businesses and use local workers to sew up your designs.