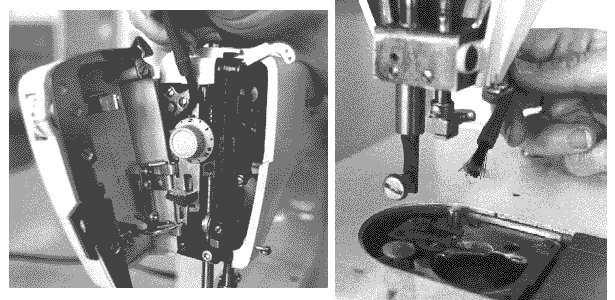 ShareThis
As I gear up to change the serger blade on my new machine for the first time, I thought it might be a good time to remind everyone about proper (preventative) maintenance for you machine. Since your sewing machine is the largest investment you'll have to make, it's important to take care of your equipment!
Change your needles often. This is one of the easiest ways to keep your machine working properly (not to mention keep your fabric from becoming ruined). A good rule of thumb is to change your needle after 8-10 hours of sewing or if it has become damaged.
Clean your machine after each project. Even if you're not working with a particularly 'messy' fabric, small particles of lint can still work their way throughout your machine. Use a small brush to clean areas such as feed dogs (removing the face plate will help in cleaning thoroughly) and bobbin case. Compressed air can be used to clean areas such as tension disks, but never blow into your machine – the moisture from your breath can cause the metal in your sewing machine to rust or corrode.
Oil your machine as recommended by your manual (some machines are self-lubricating and will not need oiling). Use small drops and only oil designed for sewing machines. Some machines are self-lubricating and will not need oil
Tighten loose screws.
Keep your machine covered when not in use. This will prevent dust, hair, lint from entering your machine.
Have your machine serviced by a professional every two years. Not only will they thoroughly clean your machine, they will check for loose or broken parts, adjust the timing (if necessary) and keep your machine running smoothly for years!