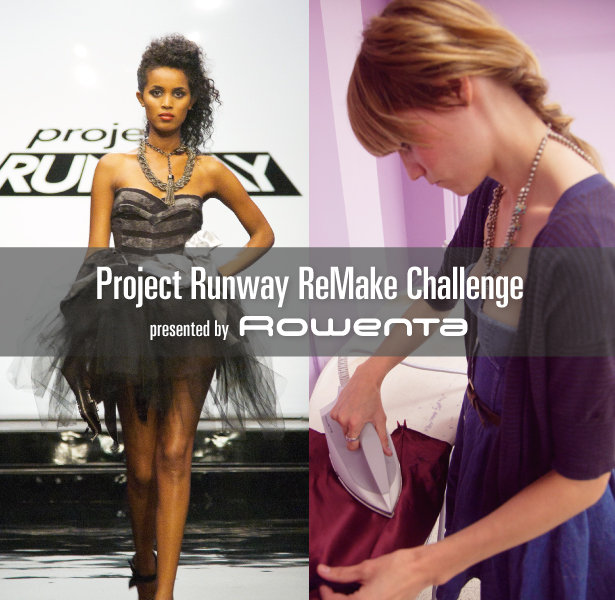 ShareThis
BurdaStyle is incredibly excited to announce a partnership with Rowenta and Project Runway! On the first episode of this season's Project Runway, contestants were asked to take an item of clothing from another designer's wardrobe and refashion it into a brand new garment. We know our BurdaStyle members are just as creative and we've decided to give you the chance to show your stuff in our very own Project Runway competition.
So here's the deal: we want you to take an existing garment from your closet and turn it into something new! Sounds simple enough, but we're looking for a little bit more than putting new buttons on a jacket. We want you to really dig in and repurpose those old pieces into new functional, wearable garments while still utilizing as much of the original as possible. Don't forget, ironing gives a more professional look when creating garments so be sure to flatten those seams and smooth out those wrinkles. We all know that Rowenta irons and garment steamers are the tools of choice among many of the fashion industry's leading creators, so get to work for your chance to win your own!
Guidelines:
1. Be sure to email your full name, username, high quality photos and a link to your project on BurdaStyle to submissions[at]burdastyle[dot]com. You must also send us a short paragraph (under 300 characters including spaces!) explaining what you did and how you used an iron in your project.
2. Take well-lit, high quality images of your garment both before and after, front and back. You must have both images to be considered.
3. All entries must be received by 11:59pm (EST) on September 30, 2010. You have 2 weeks to create and submit your upcycled garment – We know this doesn't seem like a whole lot of time but hey, the Project Runway contestants only got 4 hours!
4. You can enter more than one garment if you'd like but remember, quality over quantity.
5. This contest is open to US residents 16 and up. For full contest rules please click here
Prizes:
One grand prize winner will receive: An amazing prize package from Rowenta including the DG5030 Pressure Iron and Steamer as well as the IS9100 Precision Valet garment steamer, the Brother 5234 Project Runway Serger, 5 patterns and 5 trimmings from Simplicity's Project Runway Collection from Simplicity Creative Group. Our 2nd place runner-up will receive US $200 cash prize, and 3rd place will receive US $100 cash prize!
You have shown us over and over again how insanely creative you can be, now is the time to really let it shine. Would that jacket work as a skirt? Can you make that dress into a pair of shorts? We're looking for you guys to really let your imaginations run wild with this one. And make sure to check out the rest of this season of Project Runway for extra inspiration! We can't wait to see what you come up with!
Become a fan of Rowenta on Facebook!
Follow Rowenta on Twitter!