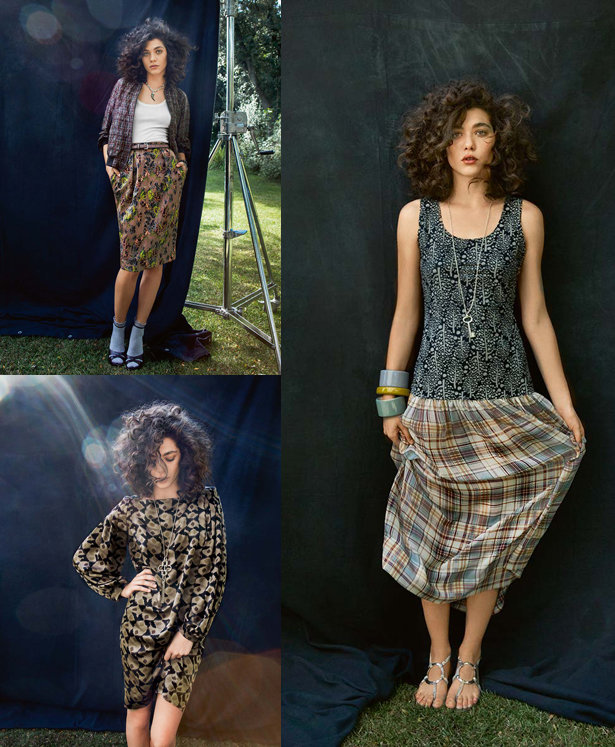 ShareThis
Nineties grunge lite is still on trend. Get a soft and casual look in these skirts, dresses, and tops. These new designs are from the March 2014 issue of Burda Style magazine.
This waist-length blouse is cut wide and slightly longer in the front to go with high waisted silhouettes. A light floral batiste is cute and casual.
Look polished with a dose of British charm in this lightweight Plaid Coat. A traditional collar and long hem keep it sleek.
Pant-like pleats at the waist give this Lamé Organza Skirt structure and shape. It's narrow but not too tight and looks subtly glamorous in glitzy lamé organza.
Soften up a structured silhouette with a Front Pleat Skirt in a soft floral batiste. It's perfect for masculine/feminine pieces like high heeled oxfords and chambray blouses, or the sweet and tough Plaid Bomber Jacket.
This cool tapered shift Dress is accented with quilted sleeve caps. It's an unusual silhouette for art openings or candle lit dinner parties.
A jersey cotton Tank Dress with Gathered Skirt has casual grungy style. This is a great pattern to mix colors and prints! Wear it with combat boots or sandals.
Hippie meets grunge in a plaid Flared Sleeve Top top with flared sleeves and a round neckline. It's quick to sew and makes a nice weekend top with leggings.
This is a trendy collection for nineties florals and sheer plaids. The mix of soft and hard styles is pretty with a little bit of an edge.
Happy sewing!