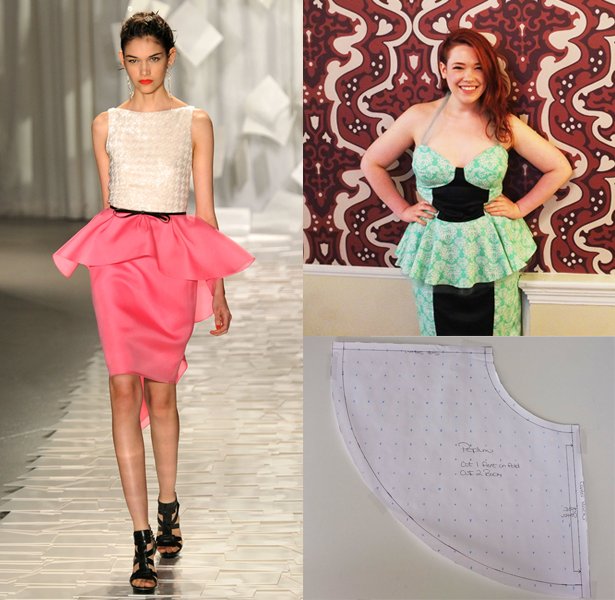 ShareThis
The fashion runway is filled with dresses, tops, skirts and even jackets with peplums! We love this trendy style and how it adds flattering volume to any garment. Check out below for peplums spotted on the runway, and how we added our own peplum to a dress.
A peplum is defined as a short overskirt attached to a garment. They are shaped in a circle to give the hemline fullness and the attachment seam small and tapered. A peplum can have a consistent hemline all around or have a stylish high-low hemline where the back peplum is longer than the front.
We spotted peplums all over the runway in various styles. Here are some of our favorite peplums!

Jason Wu had fun, bright, and voluminous peplums attached to skirts and tops. These peplums are great for spring and summer time!

On the left we see Lanvin send a stylish dark green peplum skirt down the runway. On the right, Cushnie designed an edgy leather vest with a peplum. We love these peplum styles for a night out.

Even celebrities love peplums! We see stylish Linda Fargo (on the left) wearing a bright floral peplum dress, and youthful Lucy Hale (on the right) wearing a rich burgundy peplum.
We love how versatile peplums are. They can be worn by fashionistas of all ages and sizes!

Here we made our own Printed Bustier Dress with Peplum . We even added gathered tulle underneath the peplum for a more dramatic look! Check out the project for more pictures and information on the fabrics we used.

Love the peplum style? We have created a tutorial on how to draft your own peplum that you can insert into any garment. Try adding one to a skirt, or in the waist line of a dress. We think one added to a pair of pants would be so stylish, and perfect for fall.
What do you love most about the peplum style?
Happy Sewing!