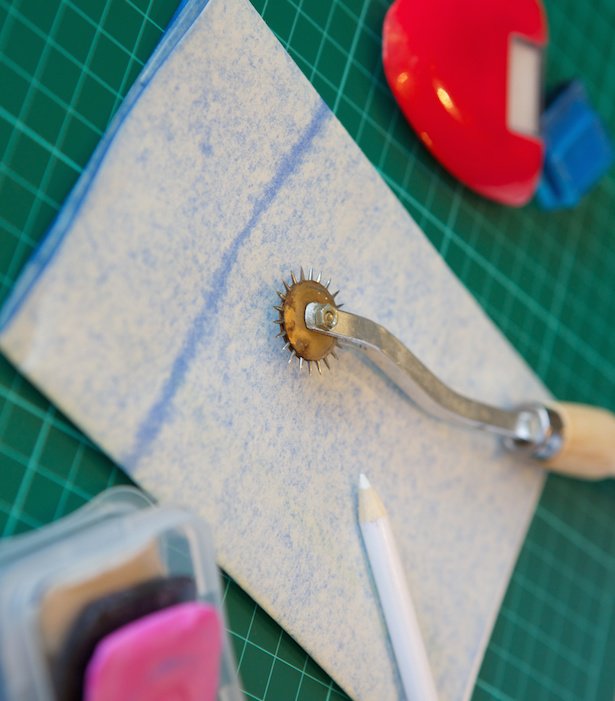 ShareThis
The three most popular marking tools…
I'm a huge advocate of marking fabric. It's a crucial step when sewing, and it ensures you stay on track with your fabric right side and wrong side, the size of your pleats and darts, the placement of your zipper, and matching up your pieces for sewing.
The key to marking your fabric is having the right marking tools, and I always suggest people start a bit of a collection. You want to build up a variety of marking tools in order to have your choice of different colors and different types. Why? Different marking tools work better on different fabrics. You also may want to change your marking tool based on the type of marks you are transferring. (Imagine transferring a fold line with a pencil. Yuck!)
Here are some of the most popular marking tools:
- Marking pencil
I love marking pencils! They're so easy to use. Just sharpen and write. As with every marking tool, of course test it on a scrap piece of your fabric first to make sure it washes out.
- Tailor's chalk
Tailor's chalk is great because it transfers to fabric easier than a pencil. (Think of a piece of blackboard chalk compared to a coloring pencil.) This is suitable for fabrics that are harder to write on. You can find tailor's chalk in shaped squares (in the photo above on the right), or loose in a dispenser that rolls your marks in place (the red case in the top left of the photo).
- Tracing wheel and tracing paper
A tracing wheel and tracing paper are great for transferring lines, both short and long, including dart legs, fold lines, and a finished hem line. But you can also use a tracing wheel and paper to transfer smaller markings like circles and notches — just use shorter strokes to mark them with an X.
There are so many more marking tools out there, but these are definitely some of the most popular. Do you have a favourite marking tool?