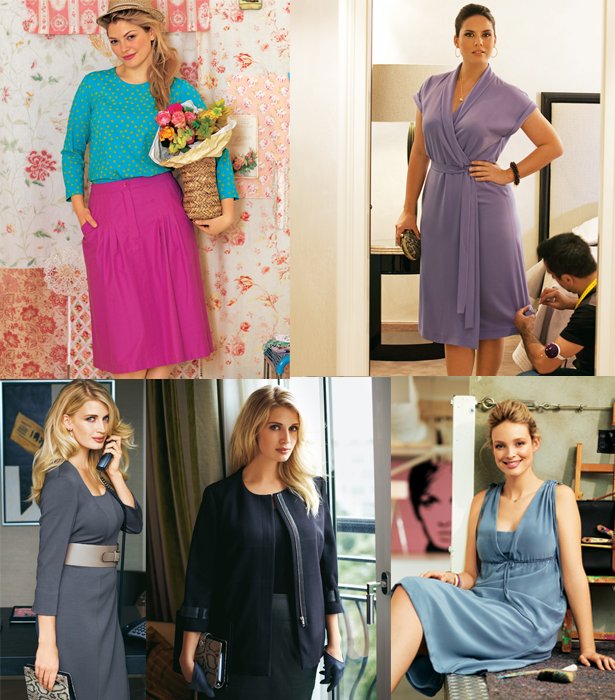 ShareThis
We've gone through the archives and found 5 new plus size patterns as well as a bunch of our favorites on the site. Make yourself a pencil skirt, a chic jacket or a cocktail dress. Check them out!
The Skirt With Pleats is flattering with sewn down pleats for details. Make it longer and in a drapy silk for an evening wear look.
Wrap Dress. We love the soft silhouette of this simple but elegant dress.
The Jersey Dress is tight-fitting to really accentuate the figure. Made in stretch jersey it is comfortable and flattering. Great for the office or more formal dinners occasions.
The chic Jacket With 3/4 Sleeve has nappa leather details and a hidden zipper. Make it in linen or cotton for warmer seasons.
Empire Dress. This dress is so classy and perfect for many occasions. We could see this in a bright yellow or magenta for this spring or why not white for a casual wedding?
Keep scrolling down for some of our favorite plus size patterns on the site……
Clockwise from the top; Dress with neck drawstring, Long sleeve embroidered dress, the Bubble Dress and Caftan Dress
To the left; The Paola Plus Dress and to the right; Fatina
Top left; V-neck Dress, to the right; Dress with pin tucks and bottom left; Off the shoulder dress
To the left; Bustier Dress, to the right; Sailor's Neck Dress
To the left; Top with draped neckline and Satin Trousers, to the left: Wool Pencil Skirt
To the left; Sequined Jacket, to the right; Lovely Karen Cardigan
We hope you find some favorites amongst these styles as well and please check back as we continue to stock up with more plus size patterns!
Happy sewing!
- Jamie and Emmy