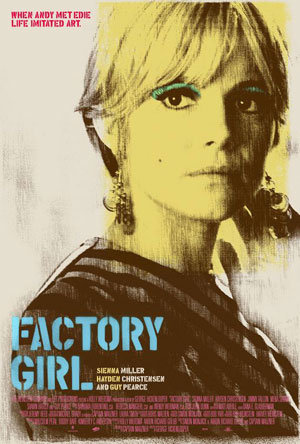 ShareThis
OK, the trailer sucks. Like, Warhol must be twirling in his grave sucks. But who cares? Factory Girl is Fashion Week's must-see movie. The biopic takes on Edie Sedgwick, one of the style community's secular saints, and is set amid the Warhol Factory scene that many fashion influencers still consider the sine qua non of New York cool. Designers have taken advance inspiration from the film hence the color-blocking and A-line shifts in store for Springwhich means that even if you miss seeing Sienna play Edie on screen, you won't be able to avoid the simalucra of Sienna-as-Edie on the street. How very Andy after all.
Playlist's Best of the Rest, 100% film edition:
1. His Girl Friday. Rosalind Russell is a fast-talking dame who's had it with the city. Super-suave Cary Grant is the ex-husband who won't let her go. And together, with a little help from director Howard Hawks, they raise banter to an art form in a movie that's as much a valentine to this crazy darn town as it is a love story about two cockeyed journalists made for each other, and for New York.
2. The Taking of Pelham 123. Ah, New York City in the '70s. Think, "The Bronx is burning." Think, "Ford to City: Drop Dead." Think, masked hoodlums to whom Tarantino owes a little something taking the subway hostage, with only seriously sardonic Walter Matthau able to stop that train. There are better movies about the Big Apple's good old bad days, but there's no movie more nitty-gritty New York.
3. Ghostbusters. Some might say that Oliver Stone's Wall Street is the emblematic film of New York's go-go '80s. But my vote for the greatest movie about the Reagan era city is Ghostbusters, which has it all: Bill Murray, aspirational real estate, a media circus, and as a kind of bonus, the villain is a guy from the EPA.