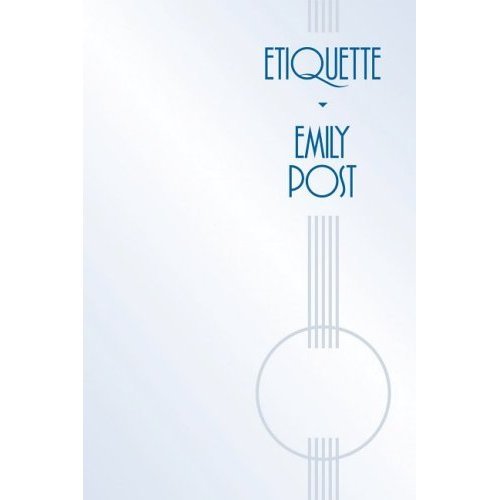 ShareThis
PLAYLIST ETIQUETTE
In her instantly seminal book The Year of Magical Thinking, author Joan Didion relates her attempts, after the death of her husband, to "go to the literature" on grief. She found nothing much that was helpful, except from an unlikely source: Etiquette, by Emily Post. Though Etiquette has been updated over the years, it was Post's 1922 original that Didion hailed as a masterpiece of matter-of-factness, and that manual has now been re-issued. Read Post not for her advice on debutantes, engaging though it is, but for her surprisingly modern dispensations on nothing less than the meaning of life: "If your community is to give you admiration and honor, it is merely necessary to be admirable and honorable," reads one sample entry. "The more you put in, the more will be paid out to you. It is too trite to put on paper! But it is astonishing, isn't it, how many people who are depositing nothing whatever, expect to be paid in admiration and respect?" Isn't it, though?
Playlist's Best of the Rest:
1. METROPOLITAN. Released in 1990, Metropolitan is in some ways a relic of its time, a time when indie movies had bad production values, no stars, crackling wit and unpredictable, arrhythmic heart. Writer/director Whit Stillman anatomizes the Xmas break hijinks, such as they are, of the privileged kids of the Upper East Side, and though you might not believe you could love a movie whose plot hinges on the International Debutante Ball, believe me: You will.
2. NAN KEMPNER: The late Mrs. Thomas L. Kempner was the ultimate lady-who-lunched, a staple of the benefit gala, the couture presentations, and the best-dressed list, and the woman once described by Vanity Fair as "the world's most famous clotheshorse." Through March 4th, you can peek inside the Kempner closet at the Metropolitan Museum in New York.
3. TENNIS: With the Australian Open concluded, two things are apparent: 1) Now that Roger Federer is on the courts, tennis can once again claim to be the classiest game going, and 2) Grand Slam season has officially begun. You've got exactly four months to work on your game before the pros hit Roland Garros.