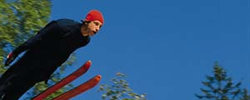 ShareThis
Like pretty much everyone else on earth, I watched the Academy Awards last month. I watched the show, and I watched the red carpet pre-show, and the after-party post-shows, and frankly I found the experience exhausting. It's not so much that the year's marquee nominees were kind of meh, or that the ceremony itself was so typically boring. No, it's the clothes that did me in.
A few years ago, the Academy noticed that the audience for the Oscars was getting smaller. There are plenty of reasons for this: TIVO, box office decline, the fact that the show no longer promises much in the way of hoot-inducing dance numbers or epically wrong formalwear. The Academy pointed its finger at the competition: Too many lesser awards had stepped into the breach between the Golden Globes in January and the Oscars' traditional late-March air date, and by the time the biggest red carpet of all unfurled, suspense had plummeted and the public had award show fatigue. There's something to be said for this theory, too.
So the Academy moved the Oscars up by a month, and that's why I'm screwed. The last week of February is Paris Fashion Week. Was, is, always will be. I have stylist friends who board planes from Milan with dresses under their arms, spend a hard four days in L.A. at fittings, and return to LAX the morning after the Oscars in order to make it back to Paris for Balenciaga. For me, the conflict is more temperamental. By the time the Paris shows start, I've spent three weeks on clothes. This season, much of the remaining patience I had for fashion was devoted to anticipating Paolo Melim Andersson's debut at Chloe.
For the record, I liked Paolo's show: I felt like he was talking about me when he described his muse as a girl who's "angry, but funny-angry." The genesis of all my hilarious rage is a story for another time, but suffice to say that living a double life has done much to augment my native personality. I'm a fashion journalist, yes, but I'm also an aspiring filmmaker. I spend most daytime hours thinking about clothes and most of my nights on movies – watching them, writing scripts for them, editing the one I just made. I don't sleep much. Instead, I drink coffee and I smoke and I take scary amounts of Vitamin B and I have bags under my eyes the size of Paddington bags. "Funny-angry" is where I live, creatively, and my sense of style could likewise be described as dyspeptic. I've assembled a wardrobe that makes an art of looking tired, clothes that work despite dressing in the morning dark, on no sleep, by taking blind stabs into the closet. I recognized quite a bit of myself in Andersson's marvelously awry collection.
The only way I've found to make this double life work, and to stay on the funny end of "funny-angry," is to overlap as few of my obligations as possible. Two months of the year, September and February, I used to be able to absolve myself of film and dedicate myself to the runways and doing the work that, for now, pays my rent. Oscars in February muddles everything up. The biggest movie night of the year competes for my attention with the most important week of fashion, and I should be one place or the other, in L.A. schmoozing or making showroom visits in Paris, and instead, I'm smack dab in the middle in New York, leaving the catwalk dispatches aside for a few hours in order to show face at my friends' annual Oscar fete. I resent the intrusion. And though I couldn't help notice that Reese looked amazing in another Nina Ricci, and that Gwyn managed to pull off that Posen, the mostly yawnful fashion show on the red carpet merely represents an intrusion upon the intrusion.
I do realize that it's asinine to complain of being pulled in two oh-so glamorous directions at once. But the very glamour of both the fashion and film industries is maddening, itself; working in either is like throwing yourself into a boiling vat of inadequacy. Anyway, I've made my bed, and as a general matter I try to avoid complaining about not getting much sleep in it. But at some point at the Oscar soiree I hit my limit. I was still preoccupied with Ari Sandel, winner of Best Short Film, and I was having all kinds of private conversations with myself about how much money and time he might have spent on post-production, when someone asked me for a critique of Kirsten Dunst's dress. You remember – that seafoam thing with a Peter Pan collar and flapper feathers along the foreshortened hem. "Chanel couture," I replied, by way of explication. She pressed me: "But what do you think?"
I don't care, I said. And it was at that moment that I left it all behind, my mind ranging away from cinema and style all at once and alighting somewhere at the top of a lonely mountain peak. "You know what I want to do?" I asked the Oscar party crowd, generally, but talking mostly to myself. "Go skiing."
That sentiment – go skiing – pervaded the close of the fall fashion season. Ski-inspired fashions were all over Milan and Paris; Lagerfeld at Chanel even set the show on a rink, and made it snow. More generally, however, there was a certain screw-it-all feeling to the shows, Pilati sweeping away the baroque flowering of spring in favor of clean lines and precision; Alber Elbaz exchanging Lanvin's loud futurism for a quiet rebellion of silhouette; Nicolas Ghesquiere mooting high style entirely by showing streetwear remaindered from the more hipsterish boroughs of any large, multi-culti city. And Paolo at Chloe, nodding back at punk with those angled zippers and neon platform Docs. I don't think that these designers are sick of fashion, exactly; I do sense impatience with the showboating aspect of the runway season, the transformation of an industry event into entertainment.
I sensed the same fatigue at Sundance, in January, and I sensed the same fatigue at the Oscars. It was written all over Kate Winslet's face. She's a serious and remarkable actress, Winslet, and I'm pretty sure she hates the part of her job currently devoted to modeling. It's an intrusion, if you will. Every time the camera lit on her, Winslet would smile the same mirthless grin. I kept expecting her start laughing, furious from the lunatic absurdity of it all, the blandly glamorous dress and the endless red carpet and the billion people watching what is, in essence, a corporate convention. "Funny-angry" indeed. There are two ways to be mad.
This week, BurdaStyle takes off, goes off and gets off track.