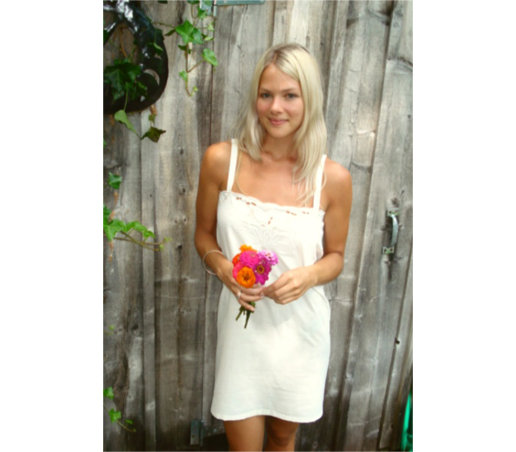 ShareThis
Ever since I saw "The Virgin Suicides" by Sofia Coppola in 2000 I have wanted a vintage white nightie like the sisters wear in this macabre film. Though the inspiration behind the true story is a bit dark, I was stricken by the pureness & innocence of a crisp white nightie.
As I was going through my old linens, I found an antique pillowcase with cut-outs (Image 2) and top stitching and I thought this will make the perfect project for my first blog post covering the topic UPCYCLING: Reusing materials to create something fresh & modern.
The case I found was 28" in length and about 40" wide. Most pillowcases will either be faced at the opening or hemmed, so there is little to do to create this simple shift. I cut off 4" of the bottom or closed part of the case (Image 3) to use for the straps. I cut this part into 2 separate pieces and made two tubes which I stitched & turned inside out for the finished straps (Image 3). After trying on the shift to determine where the straps should sit, I sewed them into place & finally hemmed the nightie. One step I may play around with next time would be to criss-cross the straps in the back; criss-crossing straps tend to create more of a fitted top while being flexible when you pull the nightie over your head.
The whole process took about 20 minutes & I am thrilled with the new look!