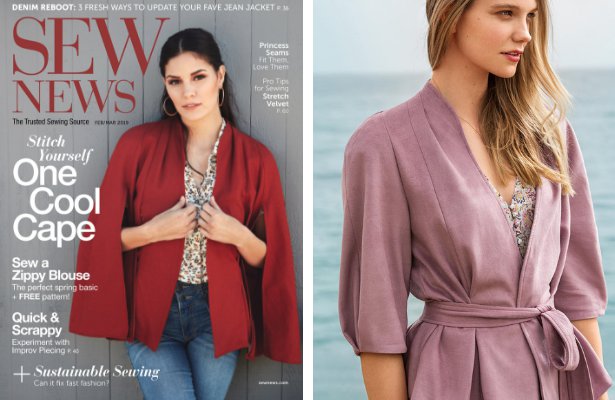 ShareThis
The latest issue of Sew News Magazine is out and the cape I made is ON THE COVER! It is so awesome to see something I made on a magazine cover, and I'm so glad it's this copper cape. This garment was for my Pattern Play column I do for every issue, and inside the magazine you'll see how I adapt a BurdaStyle pattern to have these awesome cape sleeves. Read on to see more images as well as a sneak peek at a new feature I'm doing for each issue!

For this style I used our Belted Jacket as the base, and inside the magazine you can find a discount code for this pattern! I was looking for a loose silhouette with sleeve potential. For the modification I omitted the belt, lengthened the hem, lengthened the sleeve and made it into a two-piece sleeve. See below:



The main alteration was to convert the front sleeve into two pieces to make a slit! The pattern had a shorter sleeve with slits, so I omitted those pleats and extended the sleeve hemline. Then I drafted a center line and extracted each piece! To see specific measurements and all my drafting and sewing steps, download the digital issue.



I love how the end result turned out! Such a glamorous alternative to a cardigan. For the fabric I found this deep copper linen as I didn't want something to basic like black, grey, or white – but now that I think of it, a crisp ivory wool would be fabulous for this style.
And speaking of ivory… I started to do another reoccurring column in Sew News entitled "Get the Look" where I pair patterns and color palettes to a trending street-style look



For that and much more, be sure to check out the latest issue of Sew News magazine here.