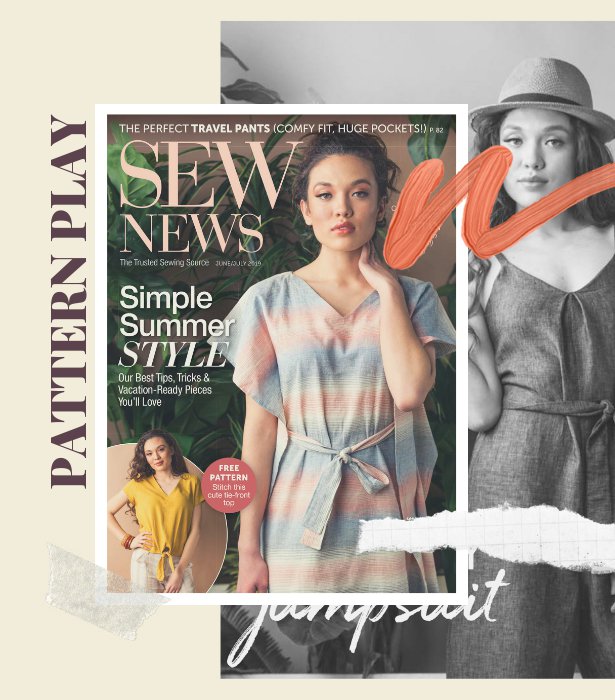 ShareThis
I was thrilled to receive the latest June/July issue of Sew News Magazine in the mail, especially this issue which features my jumpsuit Pattern Play article where I combined a separate top and bottom BurdaStyle pattern and made it into a fun, travel-friendly jumpsuit! Read on to see which patterns I used…

left: Culottes; right: Pleated Tank

Sometimes it is hard to find the perfect jumpsuit, but if you already have a tank or top pattern that you love the fit of and same with some loose fitting bottoms – then you can easily put them together!



Read every step of this pattern modification in the issue out now. This way of creating a jumpsuit is also great for custom fitting since it's easy to shift the pattern pieces apart or closer together for longer or shorter torsos. Because of the long seamline too you can create a custom size line from bust, waist to hip with a lot of room for blending curves.



Here's the finished look! Depending on your style you can pot to belt it or not, and depending on the top pattern you choose you can have extra details like pleats. Get the issue for a special coupon code for these patterns and create your ideal jumpsuit today.
I've also started writing a trend based "GET THE LOOK" column in Sew News Magazine which is super fun and in this issue I focus on seventies style:



Then as soon as I received this jumpsuit back from the issue photoshoot I began to wear it almost everyday – it is just the perfect piece to throw on! See more photos here.



Happy Sewing!