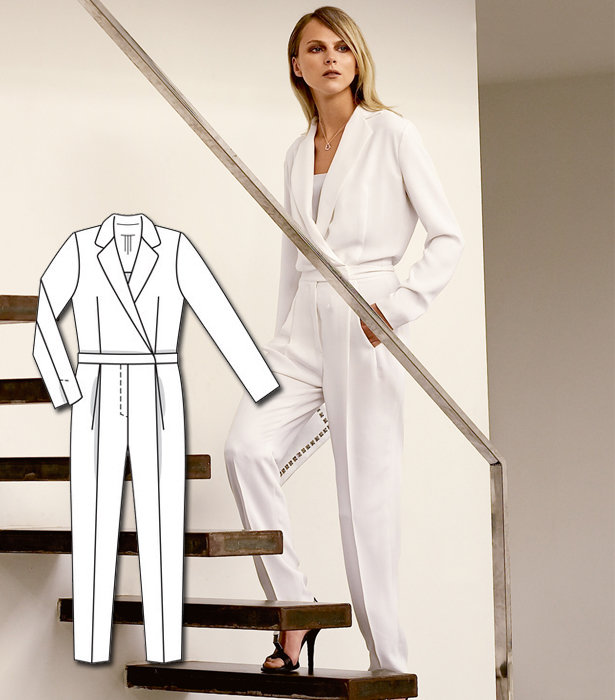 ShareThis
This week's featured pattern is an elegant jumpsuit that is so in style now. Mix up your evening wear routine with a cutting edge silk jumpsuit. It's distinctive, but has the subtlety of a pantsuit in crisp white or another neutral like navy. You can even crop or omit the sleeves for a jumpsuit suitable for summer.

styled by Mandie
No matter where you wear them or what accessories you use, jumpsuits give you a dramatic look. I say, play up the edge factor with glam gold accessories! To me, a solid black or white jumpsuit needs a strappy sandal or metallic bootie, and a coordinating gold-tipped clutch. Keep the focus on your outfit with bold but minimal jewelry, like an oversized gold chain and stud earrings.
Jumpsuits are a daring, sophisticated all-in-one outfit. I'd wear this to a formal event, probably with a polished topknot and fun statement lip.
Need more proof that jumpsuits are the new elegant evening wear? Check out a few of our favorite young celebrities rocking jumpsuits on the red carpet.

from left to right: Shailene Woodley, Anne Hathaway, Rosie Huntington-Whiteley, courtesy Getty Images

styled by Ali
I would would make this jumpsuit in either navy blue or black, only because I can't wear white without spilling. But I think this Evening Jumpsuit really speaks for itself and does not need a lot of accessories or a bold fabric. I would pair this with white heels and a white clutch. I'd go for simple gold jewelry to keep the look classic. If I wanted to add a pop of color, I would choose a red satin heel. As far as make-up, I would do a smokey eye and keep the rest of my make-up neutral.

styled by Meg
I like the idea of wearing this jumpsuit for everyday. I always have such a hard time deciding what to wear and what goes with what, but with a jumpsuit you simply have a whole outfit in one garment! I would keep the jumpsuit in white so it would go with everything, and for a daytime look I would go with a black and white theme. I find myself lately always dressing in black and white probably because it so easy to pair accessories with, for this look though I wanted to give the jumpsuit no color and an edgy daytime look. As much as I love my heels I could not go through the entire day in them so I would rock a classy pair of pointed flats, over the shoulder bag, my glasses and a watch.
Happy Sewing!
Would you more likely wear a jumpsuit for day or night?