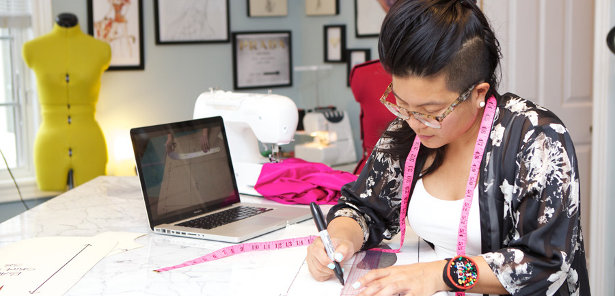 ShareThis
Slopers are the perfect starting point for designing and making your own sewing patterns and garments. Slopers are in essence the basic template for the pattern making process, and they are used to establish the fit of the body. So when you have a perfectly fitting sloper to your body, you'll have a perfectly fitting garment!
The best way to develop your own set of slopers is to actually take multiple measurements from your body and draft them suited to you using 2-dimential paper and the addition of carefully calculated and placed lines. These lines will create the outer shape and darts that will make your sloper fitted exactly to you.
In this 4 week long course Meg will walk you through every step of developing your own set of personal knit slopers! Including a top with sleeve, skirt, dress, and even leggings. With these slopers you can easily draft and make your own knit garments like basic T-shirts, tanks, and leggings. Meg will show you how adapt your sloper for different stretch fabrics, and for each sloper she will show you how to modify the style of it to get a sewing pattern with some style! This course is for anyone that is beginner through advanced in pattern drafting.
Every draft has printable handouts and videos to help you along the way, and Meg will be there to answer all of your questions. With these slopers in your sewing studio, you'll be more than well equipped for when you have a design idea and want to execute it quickly and efficiently!
Who Should Attend?



Anyone interested in creating a set of basic body patterns fitting to their body measurements


Sewers who in the past have had trouble fitting into "one" size pattern due to fitting issues


Designers looking for a template to develop garment styles on


Sewers looking for a base set of knit slopers to sew garments with stretch in them
What You'll learn:



How to determine the stretch factor of a knit fabric


Measuring yourself and determining your sloper size


How to draft a knit skirt sloper


How to transform your skirt sloper into multiple styles


Drafting a knit top and sleeve sloper


Modifying your top sloper into several different top designs


How to draft a pant sloper that is great for making leggings


Manipulating the pant sloper into different styles


Making a dress sloper and adding stylelines and gathers


How to make your top draft oversized
The Expert:
Meg Healy began to sew at the age of 12, where she began experimenting with fabric and seams on her Brother little domestic sewing machine. Studying at both Fanshawe College and Parson the New School for Design in NYC, Meg gained the technical skills in pattern making and advanced sewing that led to a number of awards for her design and construction skills. Before becoming the Online Editor of BurdaStyle.com Meg worked as a pattern making intern for Vera Wang. Meg also launched her own highly unique clothing line consisting of fashion-forward spandex leggings in 2010.