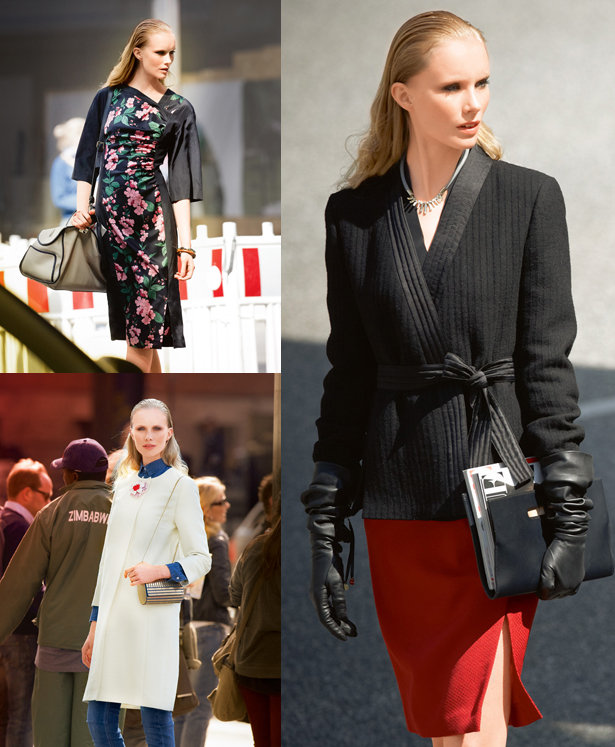 ShareThis
This collection is inspired by Japanese architecture. Look for interesting jackets, sleek skirts, and paneled dresses. These patterns are from the September 2013 issue of Burda Style magazine.
Show a little leg in this sexy Red Skirt with a thigh high slit. This simple piece pairs beautifully with a statement jacket or boldly patterned top.
Use this funky design to show off boldly patterned satins. The Robe Jacket looks beautiful in Asian-inspired florals or gem tone solids. Change up the loose silhouette with a wide belt.
The lightweight Straight Coat is a modern, stripped down version of the classic trenchcoat. It looks chic with straight leg pants and heels, keeping your look slim and refined.
Shirt dresses can be cute and tomboyish, but this Shirt Dress is totally sophisticated in twill or silk satin. Add a little embroidery and a wide belt for Asian-inspired flair. This piece looks sophisticated with a strappy sandal for a fancy dinner.
Contrasting side panels and a ruched front make this dress super flattering to your figure. Make the sides darker for a slimming effect. This sleek design is glamorous with a sleek updo and fun to wear out on the town.
Quilted edgings give this open jacket some structure. Slip it over a slim dress or skirt for a totally different outer layer that's soft, but still modern. Use a contrast color for the quilted belt and edging for a funkier look.
This avant garde Flat Jacket is fun to make. Add DIY embroidery to duchesse satin for a piece that's totally unique, and will turn your jeans and tee combo into a statement making outfit.
Make a statement with boldly patterned sleeves in the Contrast Tunic Dress. The large sleeves show off a bright print well. This is a sophisticated style for going out for sushi or cocktails.
Look modern and elegant in a long line dress with scooped sleeves and a wide boat neckline. The Overlay Dress is slim and sophisticated, and looks great with boots for a casual dinner.
These pieces have such a modern feel, and would look stunning in abstract florals. Dress up your city or evening wardrobe with an architectural jacket or interesting dress. Be daring and have fun with these sophisticated designs!
Happy sewing!