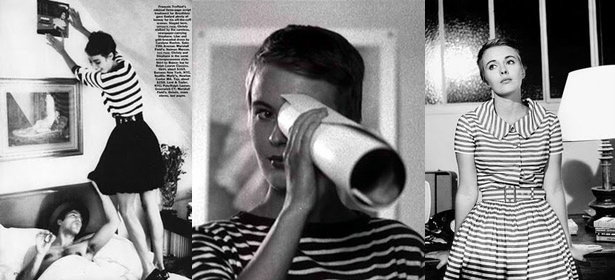 ShareThis
Peter Pan collars? Check. Marinière stripes? Double check. French New Wave films of the 1960s, a decade that began in black and white, introduced us to a fresh new look in both cinema and fashion. Similar to Swinging Sixties London, it was a time when art, music, youthful iconoclasm, and fashion all converged. Style icons embodying the French 'effortless chic' aesthetic – several of whom who also had careers as pop singers – continue to dot mood boards and wield influence on runway looks of designers such as Jason Wu and John Galliano for Christian Dior.

Yé-yé girls such as chanteuse Françoise Hardy exuded a certain feminine tomboy sex appeal, with her eyebrow-dusting bangs and penchant for tailored trousers, trenches, and mod Courrèges wardrobe.

Danish-born Godard muse Anna Karina (née Hanne Karin Blarke Bayer) is one of the most recognizable faces of La Nouvelle Vague, appearing in seven of the French director's films. Coquettish and self-confident, this gamine was often seen adorning oversized sweaters and quirky glasses, hats, and outfits in vivid primary colors such as poppy reds and royal blues.

With her simple bob and wide-collared geometric shift dresses, sweet Chantal Goya stars as a budding pop star opposite Jean-Pierre Léaud in the 1966 Godard classic Masculin, féminin, an honest portrayal of French youth.
Here are some of my favorite looks from current fall, resort, and spring collections that evoke 1960s French nostalgia.


Sonia Rykiel Resort 2011, Whit Fall 2010, Orla Kiely Spring 2011

Christian Dior Resort 2011, Carven Spring 2011, Proenza Schouler Resort 2011
The BERNINA 'Party Through the Decades' International Competition ends on November 23rd. Here's your chance to showcase your best work and personal style to win some awesome prizes. Bonne chance!
Step up to a machine that won't hold you back: The BERNINA 3 Series. The affordable new line that combines superior performance, outstanding durability, and incredible Swiss engineering.