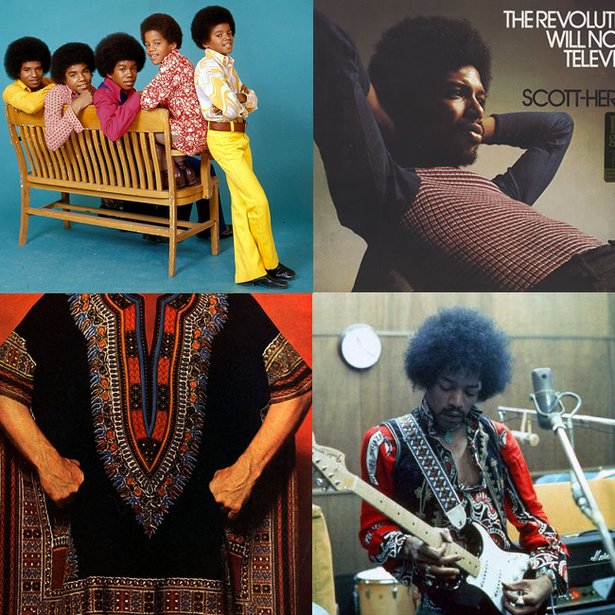 ShareThis
The late Sixties to early Seventies was certainly an eventful period. It was filled with unprecedented cultural shifts, rebelliousness and liberation, and ultimately a new era of expression. Free love and peace signs appeared in abundance, and singer-songwriters poured their hearts out over strummed guitars and self-penned lyrics.
Times were changing. Continuing a struggle for equality, African-Americans saw in this period a changing view of self-identity. A sense of unique heritage surged through marches and community meetings, not of oppression but of strength — of the beauty found in the color of one's own skin. A celebration soon emerged, with the declaration "I'm Black and I'm Proud" boldly proclaimed on city streets, university halls and, of course, in songs.
The fashion trends are a reflection of this new self-awareness. Motivated by the passion of leaders like Angela Davis and Jesse Jackson, this period can be seen as a Coming-of-Age of sorts, as the question of "what does 'Blackness' look like" began to be asked in the collective consciousness of the culture. The ubiquitous Afro, a tall, vertical mound of dark and curly hair, emerged as an assertion of black identity, and of direct rebellion against years of harsh chemicals and straighteners used to "soften" the black appearance. Indeed, Afros seem to rebel against gravity itself.
Dashikis, a loose-fitting, traditionally West African shirt, with bright colors and patterns, began to emerge in fashion stores around the country. Black men and women would often pair them with form fitting slacks and khakis.
Like the dashiki, bright colors were seen in other types of garments, too, from plaid suits to bowties. Men's fashion danced across the color palette in ways never seen before, and were worn in both the work place and party space. Pieces were still surprisingly well-tailored, yet with a new edge. Clothes began to reflect the newfound self-determination, courage and strength of their wearers, and was used to reinforce this stance.
Against Jimi Hendrix's wailing guitar, James Brown's shouts and dance moves and Fela Kuti's exhilarating afro-beat, fashion became playful and vibrant. Colorful clothes were paired with equally loud and diverse accessories, from wooden beads and bangles to Afro-picks and gold chains. It was a celebration of identity, of the joys that comes when a culture looks at itself in the mirror and finally likes what it sees.
This is one of my fashion inspirations. Now I'd love to see yours! Submit your Decade inspiration in our newest, awesome BERNINA competition!
Step up to a machine that won't hold you back: The BERNINA 3 Series. The affordable new line that combines superior performance, outstanding durability, and incredible Swiss engineering.