ShareThis
The current BERNINA Party Through The Decades competition is one of our best! Not only is the contest open to each and every BurdaStyle member (finally a contest non-US members can enter)— it's an exciting platform to showcase your joie de vivre in a fabulous party look.
To get your creative wheels spinning, here's an inspirational post with some of my favorite party looks spawning over the past few decades. First off, I have to give props to Vintage Textile: High Style Vintage Clothing and 18th Century Costume, for having amazing content, truly worth the trip over there. On another note, remember that we need to see where your inspiration comes from, make a mood board or take a photograph of what inspired you.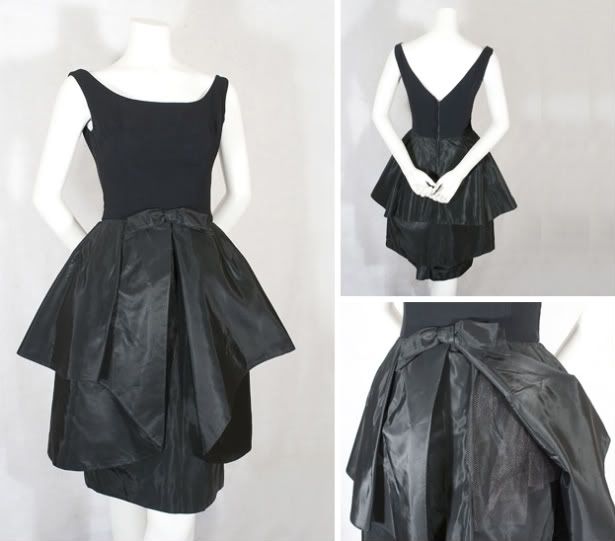 Let's start with Dior and the ultimate LBD circa 1950— Christian Dior enthused about the LBD in 1954: "You can wear black at any time. You can wear it at any age. You may wear it on almost any occasion; a 'little black frock' is essential to a woman's wardrobe." You know I can't have enough black in my wardrobe— especially dresses. Read more about the history of the little black dress here.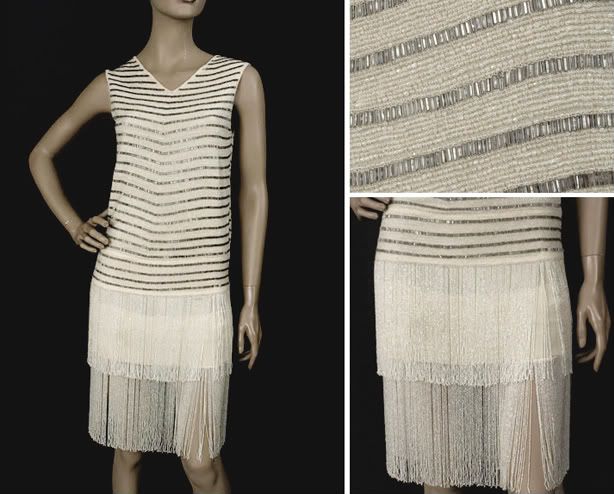 Beaded silk flapper dress circa 1925. How could you not have fun in this dress? Show us your joie de vivre in a flouncing fun flapper dress. The beading on this dress is out of control and so glitzy and fabulous.
Philip Hulitar strapless dress & bolero, 1950s. This dress is romantic, sophisticated and the printed corded silk is very Mad Men.
Zandra Rhodes printed chiffon dress, 1980s. The dropped back and pearl detailing on this 80s number adds a classy and fun vibe to this gown. Both textile and fashion designer, Rhodes (who once dressed Lady Di) certainly has that "full of life" vivaciousness and it shines strongly through her clothing.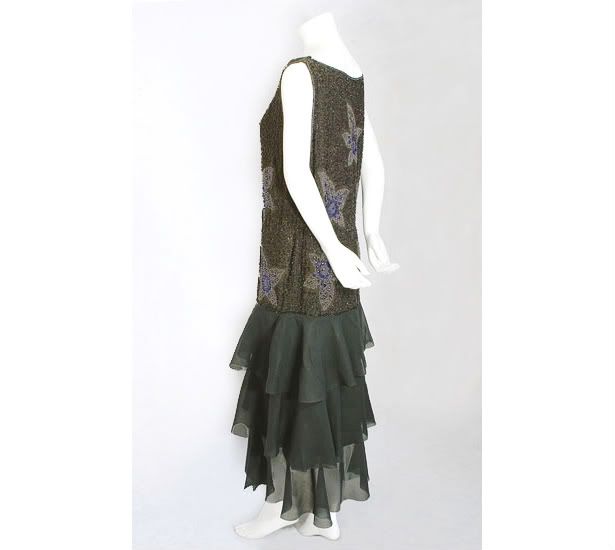 Beaded silk crepe party dress, c.1929. I think I admire so much vintage dresses that have intricate details— such as beading, because would I actually sit for days and bead something? Not today and probably not tomorrow. Which is why this dress is so special. If you also don't have the patience to sit and bead you could emulate the pattern with star-shaped pieces of chiffon.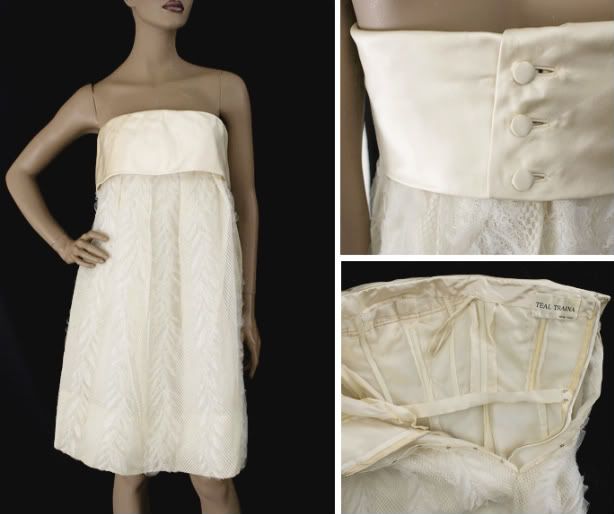 Teal Traina mini dress, early 1960s. I love the 60s, especially the raised hemlines, and this dress is so chic because it has an overlay of a 3-D feather-like weave. Put this on with amazing shoes and you're good to go.
OMO / Norma Kamali taffeta cocktail dress, 1980s. Wow, I've posted two looks from the 80s, which is way out of the norm for me, but I guess they were a good decade for party dresses, as long as they are sleeveless right? No should pads. This dress was obviously inspired by the 50s, and the shiny purple taffeta looks so much fun to wear.
Alexander McQueen, Menswear. Not to forget about the guys, I love that McQueen takes the classic elements and tweaks them a bit— he painted the collar and lapels in cobalt blue paint on the suit to the right, and the textile design on the left is surreal.
Viktor and Rolf make out-of-this-world collections for the ladies. And they make tamer pieces for the dudes. The mystery is in the detail of these two looks— study the coat on the right and you'll see it has lapels but an elastic waist. The tux to the right has some blingy detailing on the lapels— interesting and cool.
Top collage made from images found in Lula magazine and stock photos