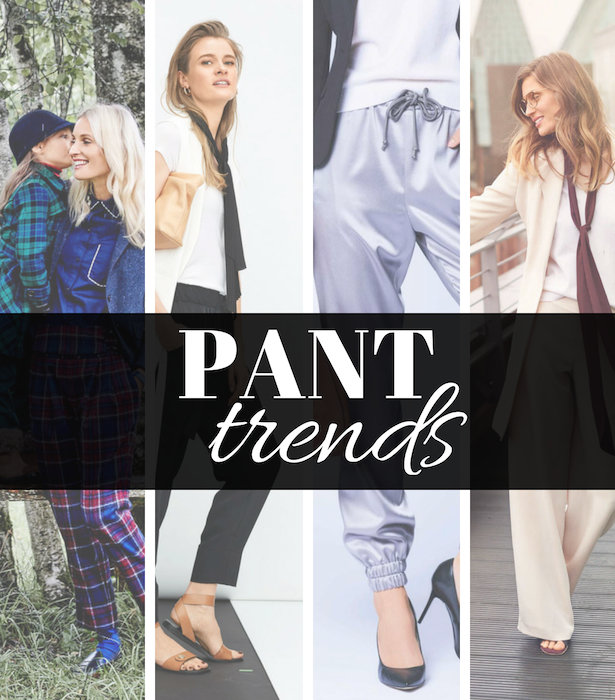 ShareThis
If you didn't know October is pants month! Once the summer season has come to an end, I'm always excited to trade in my dresses and skirts for some pants and boots. In this post I have compiled 5 of my favorite pant fashion trends that walked the runways at the fall ready to wear fashion shows, so you can be on trend this coming season.

(Photo by Victor VIRGILE/Gamma-Rapho via Getty Images)

One of the biggest, and hottest trends for the season is retro-style eighties fashions! So think, high volume waistlines and leg lines slightly tapered into the ankle – now all you need is a blouse with assertive shoulders to tuck in. These blue paper bag waist pants walked the runway at the Givenchy show.



To recreate this trend for the fall try sewing one of these pant patterns. Our Velvet Track Pants on the left have a comfortable elastic waistband and work well paired with a chic blouse and heels for dinner as easily as they can with a t-shirt and warm socks to lounge on the sofa. Then our Tapered Trousers include a waistband that folds over, single welt pockets in back and an extra-long trouser leg so that there is also the option to roll them.



(Photo by Catwalking/Getty Images)

Leading from a same silhouette as above – these pants have plaid all over them! A little from the eighties, and a little from the nineties – I love it. This look walked down the runway Versace ready to wear show.



Plaid up your life by sewing these Pleated Plaid Trousers. The wide waistband is made to have the look of a belt with the two buttons keeping it in place. They are actually closed at the waist with an integrated invisible zipper.



(Photo by Victor VIRGILE/Gamma-Rapho via Getty Images)

In addition to all these retro trends – real sporty style is super on trend! I love this look from the Fenty Puma By Rihanna runway showcasing all sorts of amazingly colorful sporty pant looks.



Try making something comfy for your next pant project like these Plus Size Track Pants with a drawstring waistline and patchwork side panels ending in zippered hems. They are naturally comfortable for a workout – the fashion brave will pair them with a blouse and pumps for the office. Then on the right we have our Sporty Trousers which are a cool fusion of high fashion and sportswear.



(Photo by Catwalking/Getty Images)

Get suited up! Matching suit sets are all the rage this season, and I love this fashionable take seen at the Loewe fashion show. Wide pants, elongated blazer – this loose silhouette is just as comfy as it looks to wear, but without compromising any style.



For your next office make, sew up these Wide Leg Trousers with matching Blazer Style Coat although It requires some extra effort, the result is really something special – and a true classic wardrobe choice.



(Photo by Catwalking/Getty Images)

It's shimmer time! Metallic-like glittering pants we're spotted in many shows this season, and these ones from Balmain have again that loose-fitting high waist silhouette.



Get this look by sewing up pants like these Drawstring Pants on the left in a metallic and glittering jersey. You can also mix this trend with the sporty look by using this pattern on the right for satin joggers.


What fall 2018 pant trend is your favorite?