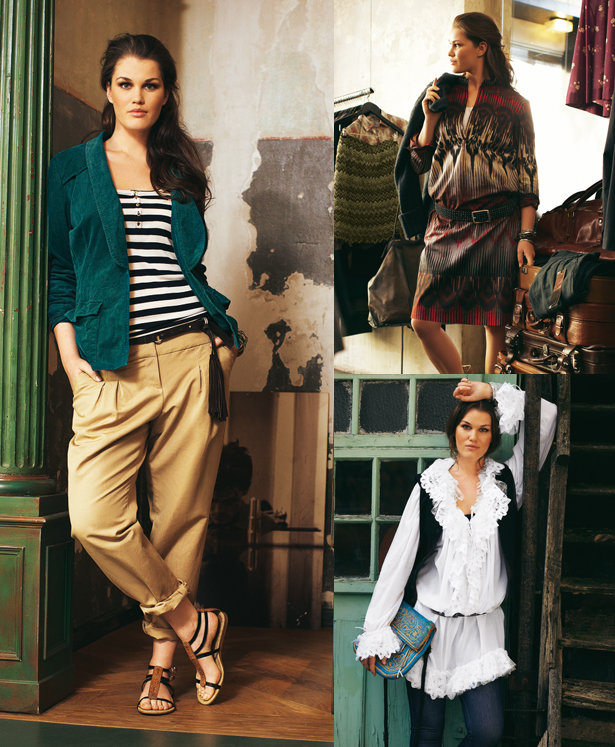 ShareThis
Take a trip to Italy or the south of France in these bohemian blouses and tunics. They're beautiful with spring essentials like sandals and big sunglasses. These designs are from the March 2012 issue of Burda Style magazine.
Pleats make these slim pants nice and roomy at the hip. Cuff them at the ankle for a casual look with sandals, or wear as is with a blazer and blouse for work.
Fight the chill in cozy, folksy style with this Fringed Suede Jacket. It's comfy and casual with everything from jeans and a sweater to a floral sundress.
A great skirt for beginners to add folk flair to your wardrobe! Add a leather belt and peasant top for boho style.
Go for baroque in a whimsical Ruffled Peasant Tunic with lots of detail. Style this fancy piece with plenty of jewelry and denim, or tone it down with pencil pants.
A wide neckline looks sexy but demure slipping off one shoulder in the Off the Shoulder Top. Lightweight batiste has hippie charm and is just right for warm weather.
Let this lightweight dress slip off one shoulder for a seductive edge to this otherwise simple dress. The drawstring keeps lightweight fabric in place so you can add on your favorite necklaces. Belt it at the waist to change the proportions.
The high split neckline has a peekaboo effect in this easy going dress. Belt it at the waist or hip to switch up the silhouette for a night out. It looks good in a bold print with some chunky sandals.
A deep shawl collar makes this Corduroy Blazer fit for a professor or scholar. Pick out a jewel toned corduroy for even more feminine flair.
A good pair of Grecian sandals and a wide leather belt are essential for pulling these looks together. Try these bohemian styles as an alternative to buttoned up spring pastels. They're a little romantic, perfect to find those spring romances!
Happy sewing!