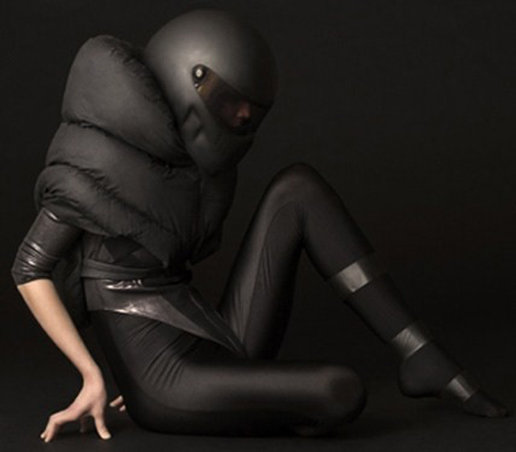 ShareThis
The other week when I was looking for some information on gloves I came across a curious announcement, the 2009 Astronaut Glove Challenge, to "promote the development of a highly dexterous and flexible glove for space and planetary surface excursions". What inspires space suit designers? And is there any inspiration that we can draw from them?
With respect to the first question, the main factor behind space suit design is human survival in space. We probably all know that flying into outer space means dealing with all sort of extraterrestrial challenges but did you know the details: your clothes have to protect you from biological hazards and extreme temperatures: if you turn your back towards the sun it might heat up to about 120 degrees Centigrade; while your belly freezes at MINUS 160 degrees!; micrometeoroids could hit you; and then there is the problem of pressure: up there, pressures is so low that your space suit has to balance it to keep your bodily fluids liquid. In short, you have to carry your own little physical universe that somehow simulates earthly conditions and at the same time let's you move around, make scientific experiments etc. What a design task!!
The outcome until recently were the chunky not particularly attractive robot type outfits that we know from newspaper or TV pictures that were influenced by diving and aircraft suits.
Today these technical features may be somehow manageable, but a supposedly emerging market for space tourism is creating an entirely new design problem, how to make those outfits comfortable and attractive for the space tourist while still maintaining their functionality. Apparently, when you are up there taking pictures of Mother Earth and you, you don't want to look like Michelin Man! I couldn't believe my eyes when I read that MIT, NASA and some space tourism companies are seriously researching into ways to make the spacesuit leaner, meaner and stylish while maintaining its functionality. (In fact, I couldn't believe that there actually is a market for space tourism.)
Even if you are not planning to travel into space anytime soon, it is worth checking out the results from the Hyper Space Couture Design Contest that took place in 2006. Maybe you find some inspiration for your Earthly fashion designs, such as chri_stine did for her Denim Space suit.