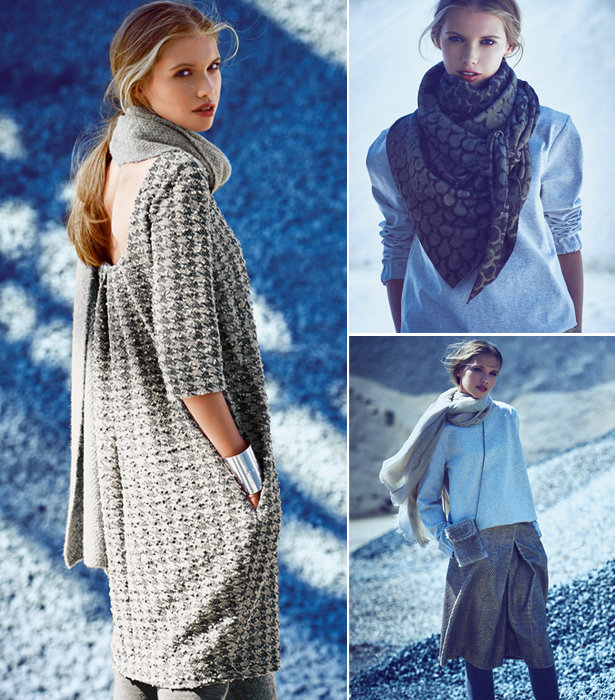 ShareThis
This new collection is from the December 2015 issue of BurdaStyle magazine. It includes pieces that will keep you warm on those cold and dreary days of winter as well as a few accessories to spruce up your sewing projects.
Click on the pattern image to go to the pattern store page…
This cozy scarf is similar to the new "blanket scarf" trend is made out of a simple, cozy piece of fabric.
This large shopper purse is made out of a chic imitation leather crocodile material. In side, there is a fixed stitched pocket and a detachable clutch, which can also be hooked on to the outside of the bag.
These chic narrow pants or leggings are made with a faux leather fabric. They close with a front zipper and have back darts for a nice fit.
This double pleat skirt features side pockets and a flat backside. It has a fun flare to be paired with a cropped sweater for holiday parties!
This beautiful dress is the perfect item to wear to formal holiday parties when you want to dress a little more modest. It has a front gather at the waist and bottom pleats at one side as well as 3/4 sleeves.
This dress lets you feel a little sexy even when it's cold outside! It has deep-laid folds in the back neckline as well as a scoop and 3/4 sleeves.
This cropped jacket has an asymmetrical zipper and it accented with split and fit seams. It has no collar and long sleeves.
Stay warm and stylish! This open waistcoat has side seam pockets and is lined with a luxurious white satin.
This three-layered vest has a quilted texture and boxy cut with a v-neck that is closed with an exposed zipper. The side seams are slightly moved to the front, so that the integrated pockets are easy to reach.
This open coat is lined with a cozy plush fabric and cut to the knees. It is fitted with a belt made of black grosgrain ribbon. What is interesting are extra wide panels at the back and on the sleeves.
This jacket has a boxy shape with outside pockets and raglan sleeves. Cinch it with a belt!
Happy Sewing!