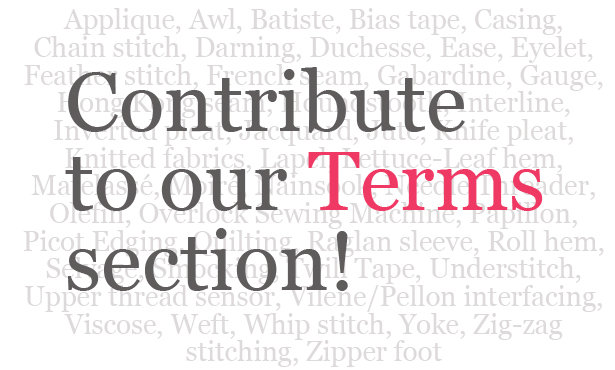 ShareThis
We have an amazing Terms section, filled with a huge selection of key sewing and craft words. We want to spruce this section up a bit, and would love your help!
While it is an excellent resource for sewers of all skill levels, quite a few of the terms do not contain any pictures. We would love for you all to submit images that correspond with some of the terms. Do you know how to create a flat felled seam, or what a peau de soie is? Share a visual example with the community!
Go through our current terms and find one (or a few) that you would like to visually explain. Then, take a picture and send them as an attachment, along with a link to the corresponding term, to David[at]BurdaStyle.com. Please make sure that the images are very clear, at least 615 pixels wide, and in natural light. You're welcome to send a few images of the same term, showing it in different angles.
As we want to make sure that a wide variety of amazing members are represented in this section, please do not submit images for more than 5 terms. If selected, a link to your BurdaStyle profile will be placed along with your image.
The deadline for this submission call is Monday, December 19th.
We look forward to receiving your pictures!