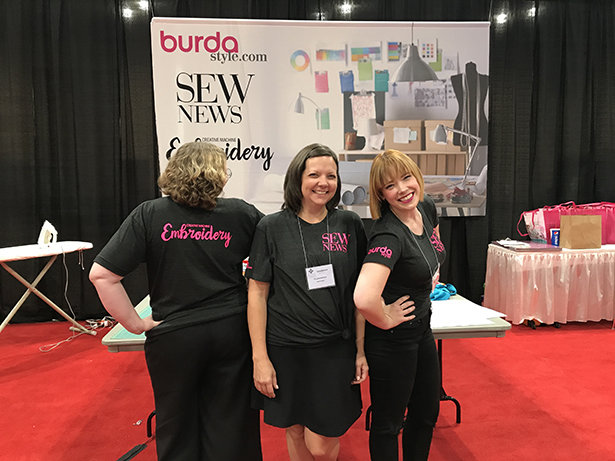 ShareThis
On Wednesday we made our way to the Chicago area for the Original Sewing and Quilt Expo! We have been having fun so far with our daily sewing relay, fashion show, and project swap. Read on to see what we have been up to…

First things first we had to set up the booth! This year we have a booth almost 4 times the size as our previous shows since we are doing sew many activities.



Here we are mid day after finishing the first sewing relay project, a skirt! It was fun to pass this project around and have different things altered and added to it.



We also did a fashion show with garments shipped right from Germany! These are a close up of some of the styles, people love coming up and touching all the amazing fabrics that Germany uses for the BurdaStyle patterns.



Here we have Sew New's Kate with a couple of the models backstage before the show.



We kick off everyday with the project swap where people bring a handmade project in a concealed paper bag and swap it for another. The reveals are always awesome to see.



This lady ended up with a blueberry pie hot plate!



Here we have Kate again sitting next to all the brainstormed words for today's replay.



This was me paired with my partner Sheryl making a "purse" for "Carrie Bradshaw", later on Kate's team had to make it for a "ski trip" and "reversible". It turned out interesting…



We are still here tomorrow so if you are in the Chicago area please be sure to stop by and say hello. Learn more here!
Happy Sewing!
Meg