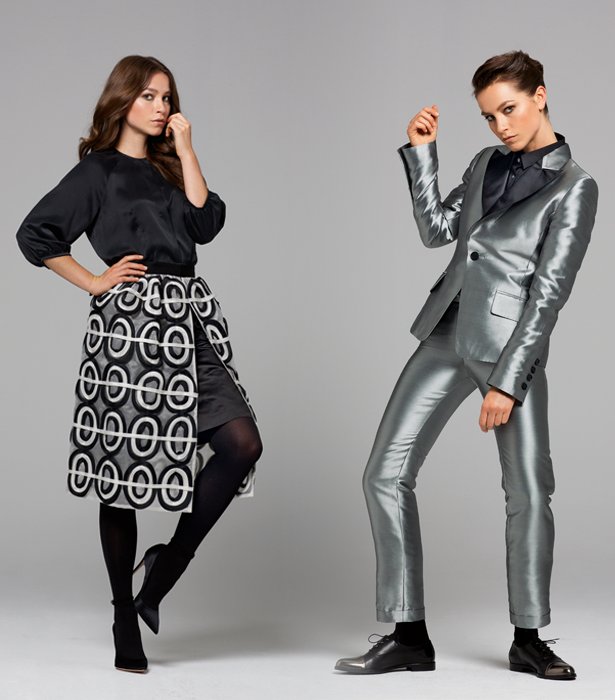 ShareThis
This new pattern collection from burda style magazine's November issue puts the curtain up on some fashionable role play! Both ultra-feminine and masculine styles are seen in classic designs in elegant shiny fabrications that are charming and romantic.
Stern can also be sexy, as shown by this lovely Coat Dress. Double breasted, with hidden snap fastenings, the long lapels and dropped waist give it a boyish shape. To lessen the masculine effect try wearing an eye-catching belt!
What a vision of loveliness! This Skirt is two-in-one, over the slightly flared duchesse miniskirt, billows the unique overskirt. It's open at the front and gathered at the waist. We love it paired with this ultra feminine Puffed Blouse that is so sweet and has a loose fitting silhouette.
Transform sporty outfits so they're fit for an evening out. This slightly fitted Sports Coat of wool velour has an almost androgynous look. There are feminine details, like the nude color and the double row of mother-of-pearl buttons on the front.
Last minute invitation? This Flourishing Blouse can be made in an afternoon. It needs no fastening and has wonderful flounces at the front.
These Marlene Trousers are sensational for the legs. Satin stripes on the sides and a cummerbund at the waist give these trousers a polished look. The narrow sides of the cummerbund are gathered and the folds are lightly pressed. We love it paired with this waiter's style Waistcoat that has hook and eye fastening at the front and mini-sleeves finish off the look from silk duchesse.
This Maxi-Skirt is just the thing for a special occasion. The broad inverted pleat at the front gives generous fullness. Wear with a slender top like this lovely wrap-style Blouse that has a beautiful fit. It features a high collar and wide cuffs and the sewn-in tucks give you a super shape.
Here is a trouser suit fit for an Oscar presentation! Pointy duchesse lapels adorn this shiny taffeta Contrast Blazer. Together with its flap pockets and collar, these capture the details of a classic men's jacket. Pair with matching Cuffed Trousers like these, makes a perfect look. They sit lightly on the hips and waist darts emphasize the slim line of the trousers.
Hello princess! This style is a real fairy tale Dress made from pearl pink shot taffeta. The wide skirt swings down below the fitted bodice with beautiful inverted pleats. A perfect dream for dancing…And another lovely little advantage is the dress camouflages broad hips.
Happy Sewing!