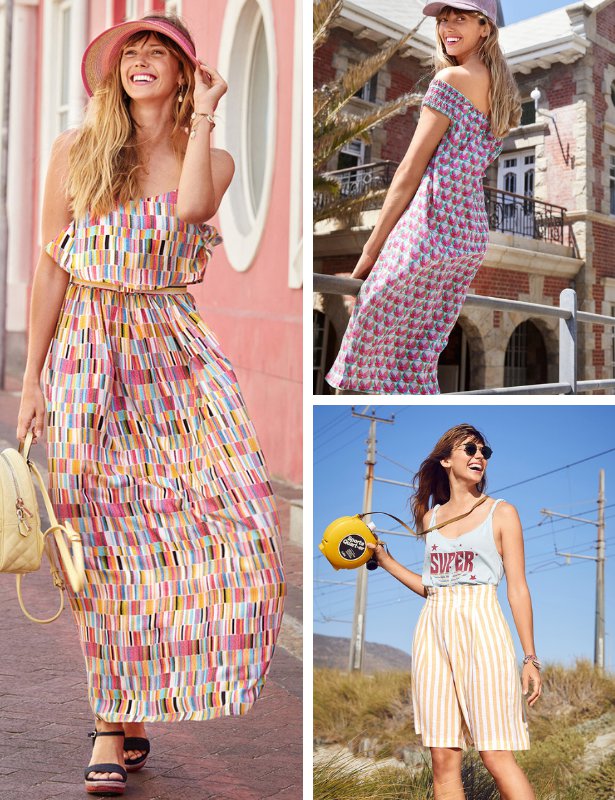 ShareThis
Whether a world tour, a city trip, or a day at the lake suits you best: These easy styles from the 07/2019 issue of BurdaStyle magazine in care-free fabrics have you fashionably ready for every adventure.

The Carmen neckline lets the shoulders show their beauty. For those who wish to wear a brassiere underneath, the mini sleeves on this dress can also be worn pulled atop the shoulder – then the straps can tuck underneath.



The details really make a difference here. A yoke band and overlapping front expertly shape a covered placket. T-shirts and blouses should always be tucked with this look – a highlight for this feature for full impact that also beautifully draws the eye along the style lines.



This tunic with its slits at the neckline and the hem is an especially flattering look for petite women. Fabric bands, the empire waist and sleeve hems are decorated here with a narrow rick-rack trim.



The pleats in front hold a shape that mimics the look of a waist tuck, an especially casual feature for the relaxed blouse sewn with a breathable and sophisticatedly draping mixed weave fabric. When not in rotation for your travel needs, this style is wonderfully paired with slim fit trousers, skinny jeans or a pencil skirt for the office.



So breezy and stylish. The Bermudas are sewn with a striped linen and include stitched down pleats left open at the waist for a playful touch that replaces an attached waistband. You can still highlight this effect and add accent at the waist by wearing a belt.



For sunset strolls or a cover-up at the beach: This lightweight tunic with a gathered V-neckline and drawstring casings at the sleeves is our new favorite. For a full-on romantic look, sew it in a delicate eyelet fabric.



This dreamy version of the perfect summer dress is a ray of sunshine. The layered cut pulls close to the body with a an elastic casing at the waist and the neckline has an attached flounce that drapes softly along the figure.



Let the vibe of the 70s be revived in this long cardigan look that includes a tying band to pull it casually close or let it simply drape open in front.



It is hard to believe but this charming dress is really one pattern piece that is finished by simply wrapping it around your body – cool!



This asymmetric shirt with gathering is the perfect last-minute style. Choose a wrinkle-free and easy-care jersey for a look that looks fresh even through the longest journey.


Road trip in style and make ALL these fabulous patterns with the discounted pattern collection bundle here!