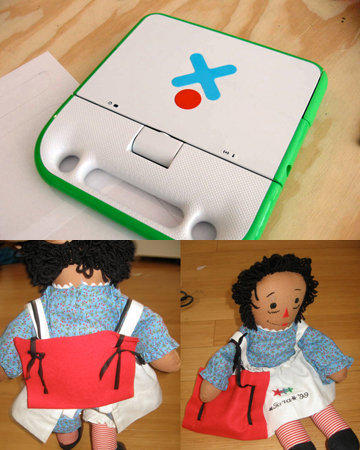 ShareThis
I am so pleased to announce our latest project at BurdaStyle. We've just met Lauren Klein, from One Laptop Per Child. This absolutely awesome project aims to provide children all over the world with their very own laptop. It's been in the making for years now, and children already have these high-tech gadgets in their hands.
These laptops are made with a special user interface designed with children in mind, with programs that help them understand the community around them as well as the emerging global community. The programs teach children important basic skills while giving them the opportunity to develop the technology savvy that will help them succeed later in life. There are special keyboards, available in several different languages, and even an easy carrying handle. Its been hugely successful and many countries have purchased laptops for each child in the targeted age group, at a price of only $100 each! Children are taught at school how to use them, and then take them home to share with their family. These laptops also have a battery life of 2 days! These children are finally getting the opportunity to advance themselves and explore the world! I read that in many of these countries, the first English word spoken by these children is often "google"! To read more about OLPC, see OLPCWikiEducator, World Wide Workshop Foundation, and the OLPC Rule.
We've been asked to develop a How To so the children can learn how to make a bag to tote their new laptops in. This is quite an interesting project, since the availability of materials will differ from country to country, as well as language. Most importantly, the bag needs to be something a 9 or 10 year old could make, without all of the resources we are used to. I've come up with a few prototypes out of felt, and even though I'm super excited about this project, this task is proving to a be a difficult one. Regardless, it's worth it! I am working right now on a How To and will share this with you in a few days!
UPDATED: as of Monday, August 6th- The How To is up! Check it out!